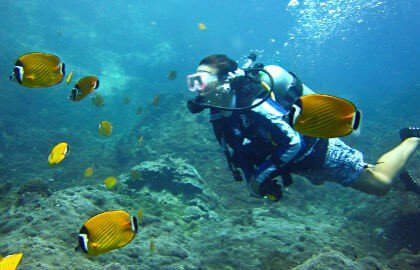 Koh Tao, A Diver's Paradise
Looking to scuba dive in Thailand? Then consider Koh Tao, one of Asia Pacific's most famous dive sites.
Scuba diving is very popular in Thailand.  Every year, the number of gay divers coming to Thailand continues to increase.  There is even a gay diving school in Koh Samui called Rainbow Scuba & Tour.
Thailand has several great diving destinations on both sides of the southern mainland.   Famous dive sites in the Andaman Sea include Phuket, Krabi, Koh Lipe and Similan Islands.  In the Gulf of Thailand, there are over 100 islands with countless reefs.  These include Koh Samui and Koh Phangan.  But the most popular island in Thailand for diving is perhaps Koh Tao.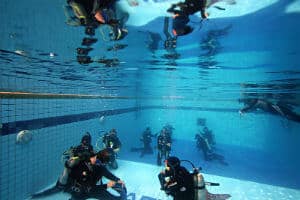 Koh Tao (which means "turtle island") lies north of Koh Samui and has an area of only 21 km².  There are numerous diving schools and resorts on Koh Tao that offer PADI courses and tours.
Popular dive sites on Koh Tao:
Mango Bay.  With a maximum depth of just 16 meters, this is a perfect dive site for beginners. It has a sandy bottom and shallow reef with small reef fish, puffers and moray eels. The bay can be accessed by boat or via a road through the jungle from Sairee Beach.
Green Rock. This open-water area is filled with caverns and swim-throughs created by boulder formations. Great for divers of every level who can expect to see stingrays, triggerfish, parrot fish and occasional reef sharks.
Shark Island (Red Rock). Located off the southwest coast, this standard dive site is almost 30 meters deep and features huge boulders and stunning soft corals. Marine life found in this area include triggerfish, turtles, blue-ridged angels and reef sharks.
NangYuan Pinnacle. An open-water area with a maximum depth of 19 meters with large boulder swim-through arches and a large cave. Home to tropical reef fish such as groupers, longfins and stingrays.
Chumphon Pinnacle. Located 11 km from Koh Tao and suitable for more experienced divers.  It has a maximum depth of 45 meters and consists of huge granite pinnacles covered with sea anemones. Divers can expect to see barracudas, jackfish, groupers, batfish, and even whale sharks during the right season.

There is a good selection of accommodation on Koh Tao.  Most visitors stay at Sairee Beach, the main beach resort area that has the largest number of restaurants, bars and hotels to suit all budgets, from basic bungalows to 4-star private villas.
There is no gay scene in Koh Tao, but like every other island in Thailand, you will almost certainly find plenty of other gay travelers and receive the warmest of welcome.
Join the Travel Gay Newsletter
The Best Tours In Koh Tao
Browse a selection of tours in Koh Tao from our partners with free cancellation 24 hours before your tour starts.
The best experiences in Koh Tao for your trip

Instagram
@
Follow on Instagram
More Gay Koh Tao