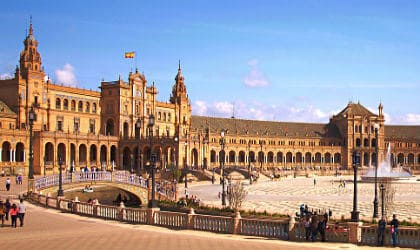 Visiting Seville
If you're travelling through to the southern region of Spain, then Seville should definitely be on your itinerary.
The capital of Andalucia and Spain's 4th largest city, Seville (or "Sevilla") is a beautiful historic city with enough culture and gay scene to keep you busy for several days.
The sights
There are many remarkable old churches, museums and landmarks, but the highlights are the Alcázar, the Archivo General de Indias and the stunning Seville Cathedral, all of which are UNESCO World Heritage Sites .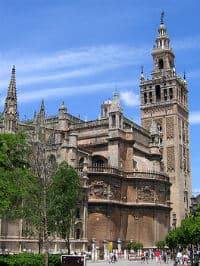 The Alcázar is the oldest royal palace still in use in Europe.  Archivo General de Indias (General Archive of the Indies), housed in an ancient building dating back from several hundred years ago, contains valuable documents showcasing the history of the Spanish Empire.
Seville Cathedral, the largest Gothic church in the world, is located in the heart of the Old Town. This charming neighbourhood of narrow pedestrian streets is full of excellent restaurants, cafes and shops.  And if you stay at a hotel near Santa Cruz then all these sights are within easy walking distance.
The scene
Much of the gay scene in Seville is located near The Alameda de Hércules (or simply 'La Alameda').  This area is home to many bars and gay-popular hangouts, most of which are mixed.  'El Bosque Animado' (Calle Arias Montano 5) has a nice outdoor terrace and is frequented by a gay crowd.
If you're in to mood to cruise, check out MEN TO MEN bar (Calle de Trajano 38) has a cruising area or head to gay Sauna Nordik (Calle Resolana 38) which is about 10 minutes away from La Alameda. During the hot summer months more gay cruising takes place outdoors, especially in the area around the park along La Alameda.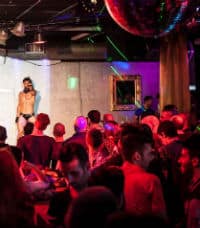 For clubbing, there is the popular GOLD nightclub (Avenida Torneo 43), on Friday and Saturday, and Itaca (Calle Amor de Dios 31), a gay disco bar with cruising area.
Seville's gay nightlife is best on the weekend.  So, plan your trip accordingly if partying is on your agenda.  There is a huge Spring Fair (Feria de Abril) around April-May.  Or you can wait until the end of June to join the popular Seville Gay Pride (Orgullo del Sur), or October-November for the international bear weekend GuadalkiBear and the annual gay & lesbian film festival.
Join the Travel Gay Newsletter
The Best Tours In Seville
Browse a selection of tours in Seville from our partners with free cancellation 24 hours before your tour starts.
The best experiences in Seville for your trip