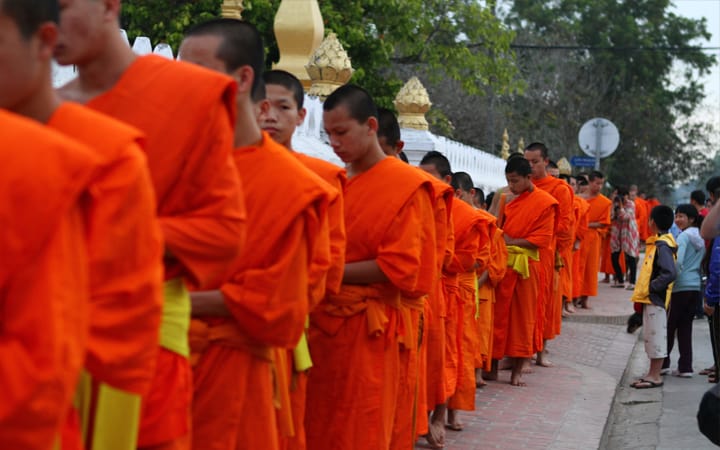 Luang Prabang · City Guide
Planning a trip to Luang Prabang? Then our Luang Prabang city guide page is for you.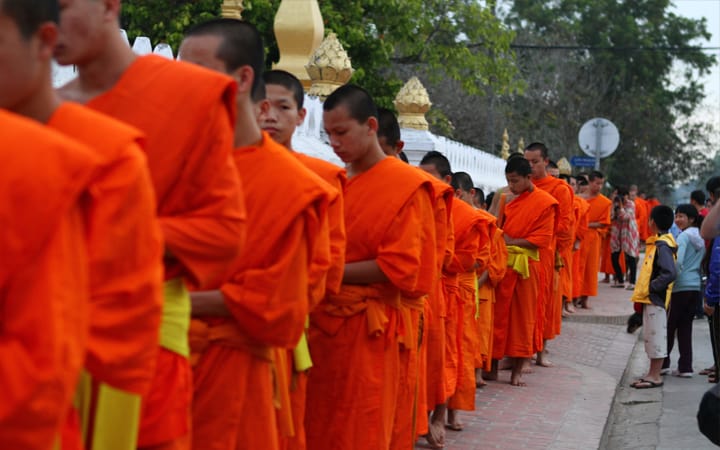 Luang Prabang
Luang Prabang, the provincial capital of north Laos, is set on the bank side of the upper reaches of the Mekong River and surrounded by beautiful forest covered limestone mountains.
The city is renowned for its unique combination of beautiful temples and historical French colonial architecture. Luang Prabang was designated a UNESCO World Heritage Site in 1995. This has, thankfully, restrained the pace of development.
Gay Scene
Luang Prabang does not have a specific gay scene. There used to be a gay bar called "Blue Ice" but had closed down many year ago. Gay-owned establishments are all over the city, and travelers receive exactly the same welcome as anyone else in hotels, restaurants and cafés.
The most gay-popular area of Luang Pranbang is located behind Mount Phousi, around the corner of Phousi Road and Chao Siphouphan, where a number of gay-friendly bars, restaurants and clubs can be found
If you want to hook up with a local, then use a dating website/app in advance. Last time we checked, there were not many local guys on Grindr.
Getting to Luang Prabang
Daily flights from Bangkok with Bangkok Airways and Thai Air Asia. Lao Airlines operates services to Vientiane, Chiang Mai and Hanoi. Vietnam Airlines operate a daily services from Hanoi.
There is a well-organised taxi service at the airport. Expect to pay about $10US to most destinations in the town.
Getting around Luang Prabang
The most popular way to get around the city is by walking, cycling or tuk-tuk. Expect to pay around $10-15 per person in a tuk-tuk for any trip in the town.
Where to Stay in Luang Prabang
The city of Luang Prabang has a great range of hotels to suit all budgets. We recommend staying within the Old Town area. Check our list of recommended hotels in Luang Prabang for gay travelers.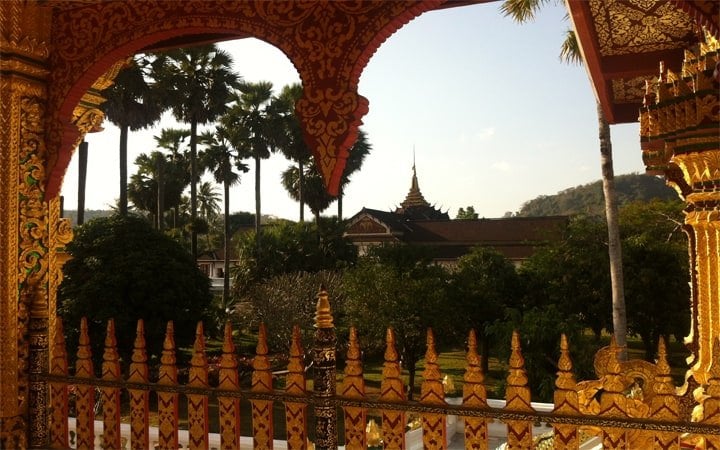 Things to See & Do
Cycle around town -  Most hotels have bicycles that guests can borrow. This is the best way to explore the town.
National Museum - The surprisingly good National Museum is located in what was the Royal Palace of the King of Luang Prabang. Built in a style inspired by both French and temple architecture and home to the 14th century Buddha image 'Pha Bang' - from which Luang Prabang derives its name.
Watch the sunset from Phou Si Stupa - Also known as Wat That Chomsi, this golden stupa is located at the top of Phou Si, a small hill in the centre of Luang Prabang that is forested with frangipani and hibiscus. Excellent views across the town and a beautiful place to watch the sunset over the distant mountains.
Night Market - A relaxed experience compared with those found in larger Asian cities. The main Sisavangvong Road is closed at 5pm each night and rows of stalls are erectly selling local textiles and Lao handicrafts.
Morning Alms Giving Ceremony - Get up early (6am) to witness the paraded of 200 or more monks walking along streets lined with people who offer food and pay their respects. This is a beautiful religious ceremony that is still an important aspect of Laos life.
Kuang Si and Tad Se Waterfalls - These are the largest and most dramatic waterfalls in the region.  Located about 15 kilometers south of the city. Also home to the Bear Rescue Centre (four-legged animal type!).
Boat Trip on The Mekong to Tam Ting - Take a long boat for a 2-hour trip 25 km upstream to the caves at Tam Ting - a shrine filled with 2500 Buddha images.
Join the Travel Gay Newsletter
Have we got something wrong?
Are we missing a new venue or has a business closed? Or has something changed and we have not yet updated our pages? Please use this form to let us know. We really appreciate your feedback.