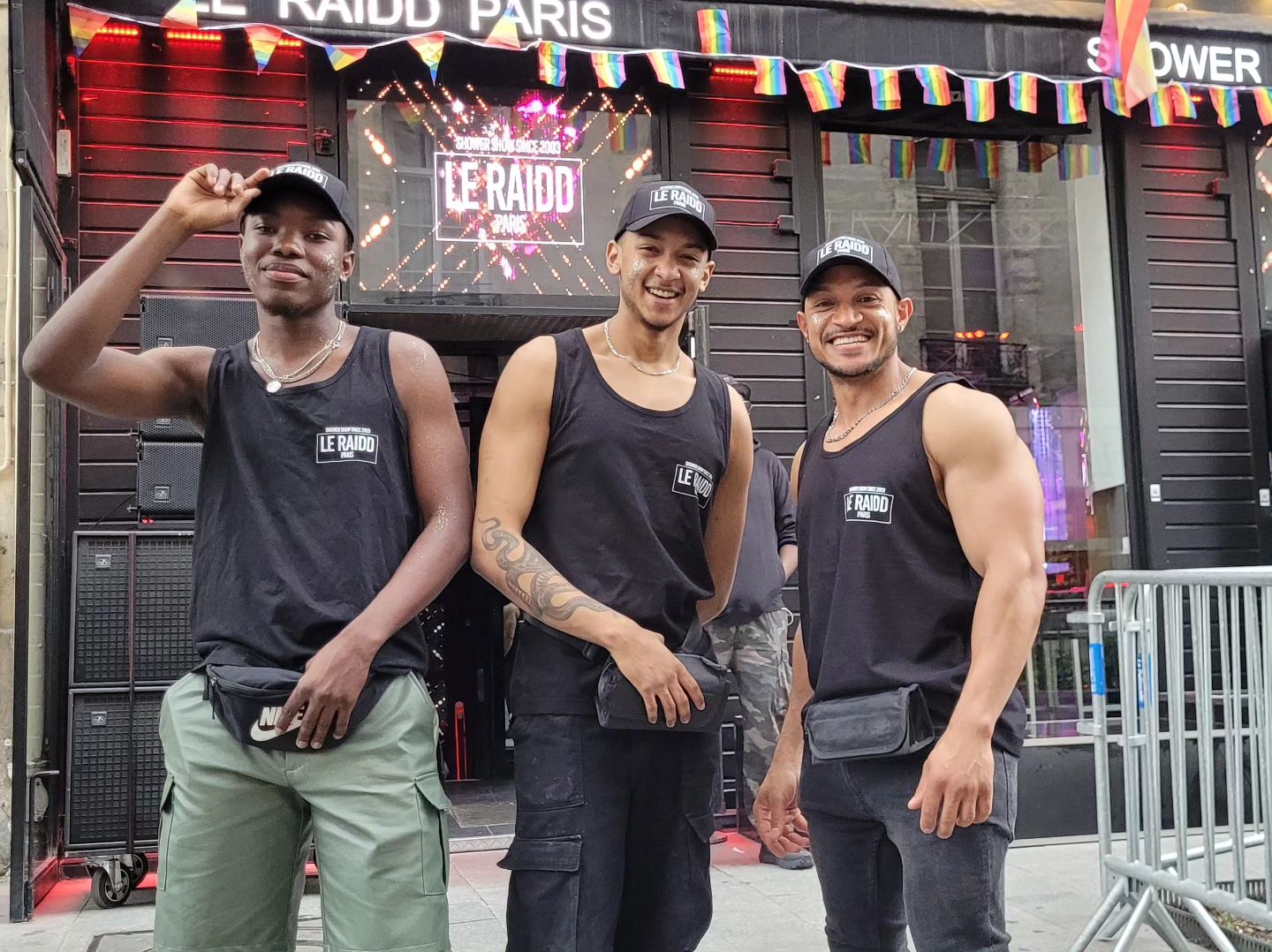 RAIDD Bar
Music bar famous for its fabulously hot 'shower show'.
23 rue du Temple, Paris, France, 75004
One of Paris' most popular gay bars. Le RAIDD is famous for its Shower Show on Thursdays when several hot, hunky male dancers get wet & wild in a huge aquarium-like tank embedded in the wall.

And if that's not enough eye candy, then feast your eyes on the gorgeous bar staff. Drinks are reasonably priced, and there's a cosy lounge area in the basement.
Nearest station: Hôtel de Ville
Features:
Bar
Dancing
GoGo Show
Music
3.2
Audience Rating
Based on 35 votes

2017 Audience Awards
3 Star Winner
Romeo
Had a great time while visiting Paris friendly sexy bartenders... the shower event was ok wasn't impressed but the crowd was good and sexy, quite mixed. I'd go back especially for that sexy African bartender in the lower level - he was so sexy lol.
Atmosphere
Visited RAIDD last two times while in Paris. Music is good. bartenders seem bored and sad. The management hasn't changed up the music, video screens nor staff. Feels like a big miss . Hope they change for the better.
All the fun
Music is great. Guys are hot. Be careful. Stil a lotta fun. Showers are hot.
Raidd Bar
This is a very good Bar.
best Gay place un Paris
Barman and dancers are really friendly and sexy. Good music and good cocktail. Thé shower show us really Hot. And one différent show every night Thé costumers come from every country and there are handsome.
RAIDD Attention
This bar has become a bad place, flight, and escort of any kind, but especially if you are the right victim, a lot of phone theft, card and the like - this problem is known to the neighbourhood police, there are a lot of complaints.
No thanks
Paying over priced drinks just to see some go go dancer having shower rubbing their crotch?! No thx, I mean NO! There's no city like New York x
Rip off bar for tourists
This is a tourist bar - you won't see many French there. It would be a decent place if not for the bar staff that rip tourists off. They tell you different prices every time. I bought a pint of Heineken and a bottle of desperado 3 times and every time was charged different price: €10.20, €12 and € 14.30 respectively. When we told about this to French punters, they smiled and told us they never pay this much. The bearded Arab barman was the most audacious. There is no price list and you never get a receipt. If you speak English, expect to pay much more than locals.
Arrogant guys
Very arrogant guys. Its the jungle rule that means how bigger your muscles are how more chance you'll have someone will talk to you. If you are polite high chance the barman's will be rude.
Très bien pour prendre un verre dans une ambiance Gary friendly
De très beaux mecs (mais j'ai dû être hypnotisé par un des serveurs) , toujours du beau monde même en semaine. Trop de touristes et de bonnes femmes à mon goût néanmoins.
Shower surprise!
I had a lot of fun here! Plenty of hot guys, gorgeous bar men and the shower show was amazing - don't stand too close, you'll get an eyeful! Drinks are cheap during the happy hour but more expensive later on. It gets very packed at night and some of the clientele can be pretty rude, be careful when queuing for drinks.
Opinion of a Parisian
I am Parisian, here is what local think about Raidd bar : - Rather a good place, even if it is always more touristic. Guys remain hot. - Price are normal Parisian prices, can seem expensive but they are not. - This place attracts plenty of poor gay guys from suburbs, knowing that rich tourists come there. So beware. But this recommendation worth for all Paris. Don't show-off. Finally, as local guy, we rarely go there, but it remains cool.
BE CAREFUL HERE
BEWARE OF RAIDD. I was there this week and had my Iphone stolen. When I verbally confronted the thieves I was physically attacked. Despite the fact that I had been the one that was attacked and was injured, the security guards did nothing but let the thieves go. They refused to call the police. Even worse-- several minutes later the thieves came back on a scooter laughing and gave the same security guard a kiss on the cheek. To add insult to injury, the barmen were insulting and completely uncooperative. BOTTOM LINE-- WATCH OUT AT THIS BAR. There is no cover charge and all kinds of people come in with the sole intention of stealing. There are definitely criminals that work the crowd and the bar management doesn't care. In fact, it is likely they are complicit in this activity.
Comments / Reviews are the subjective opinion of Travel Gay users, not of Travel Gay.