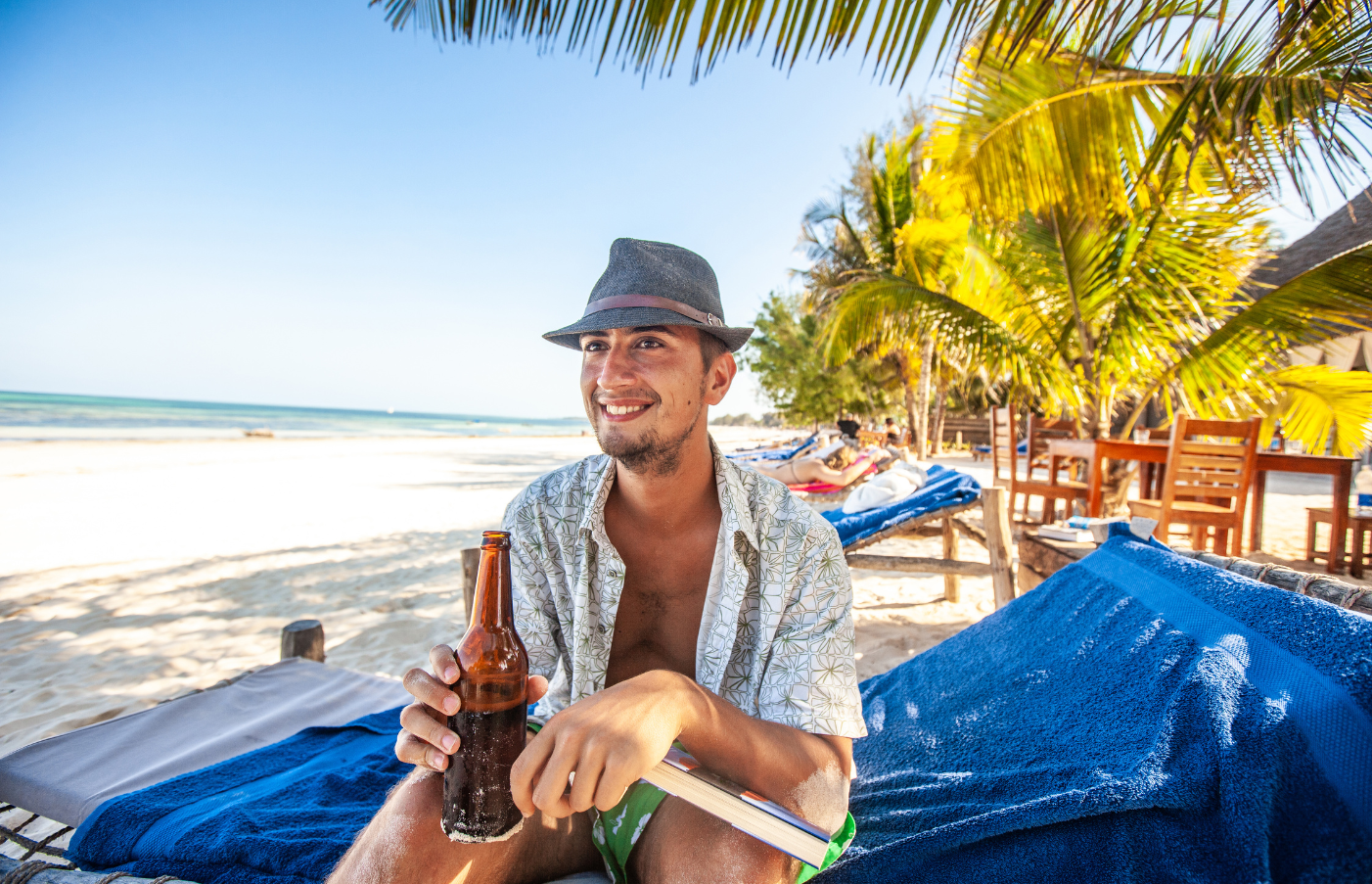 Sitges - Spain's Gayest Town
Sitges is of the best destinations in Europe for gay travelers
A resort town like no other, Sitges oozes charm. Palm-lined seafronts, cobbled back alleys and stunning period architecture all make Sitges one of the best gay vacation spots in Europe. Just a 40-minute train journey away from Barcelona, Sitges is easy to reach and close by to one of the continent's liveliest cities.
Nicknamed "The St Tropez of Spain" and "Little Ibiza", the town is packed with nightlife. There are roughly 24 gay bars to explore. Sitges' small size makes it easy to hop between venue. It isn't all about nightlife. The beaches are great too.
Often referred to as the "gayest town on the Mediterranean", in summer months LGBT+ tourists can outnumber heterosexuals and the town's thriving gay culture is evident throughout. Along with the city's mainstream nightlife, there is also a wealth of venues and spaces for LGBT+ people and thousands are drawn to this quaint town every year.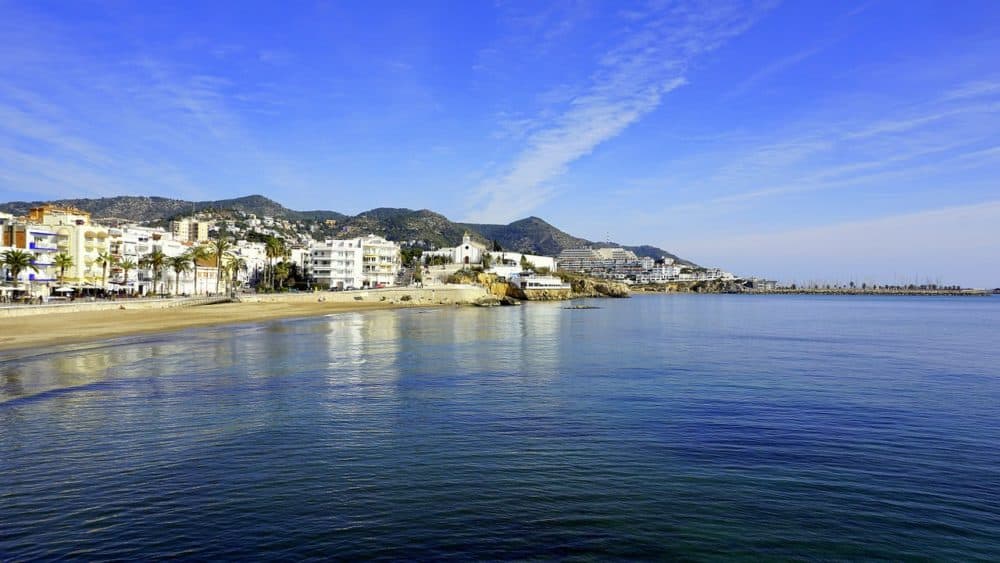 Most of the gay bars and clubs in Sitges are located right in the centre of town. Bar hopping is very easy. The focal point of the local gay scene, however, is Parrot's Pub, Sitges' most popular gay bar and the perfect place to start a night. The outside patio faces the street, making it the perfect place to sip a drink and people-watch before heading out.
El Horno is one of Sitges oldest gay bars and also a staple of the nightlife scene here. Styled as a traditional tavern, with classic artwork and design, the bar is particularly popular with older locals and tourists. El Horno is an important fixture in the town's bear community, acting as the headquarters for the Bear Sitges Club and is also a focal point of the annual Bear Festival.
Well known as being one of the oldest running gay clubs in the town, Organic Dance Club is a late-night venue that really gets going after 3 am. Holding foam parties twice a week, the club gets very busy during peak season.
For a more relaxed experience, consider visiting the Central Bar Cafe. This charming and laid-back venue is open from 10 am to 2 am every day and is the perfect place to unwind and chat over a drink. The bar has a large patio and in summer months it's the perfect place to gaze upon the eye candy walking past.

Sitges' identity as one of the world's most popular gay destinations means that there is a wide and varied range of gay-friendly hotels and gay-focused BnBs and guesthouses. The El Cigaliere guesthouse is located just 15 minutes from the heart of Sitges and is nestled peacefully amongst vineyards and rolling hills. The hotel is for gay men only, meaning that you can relax and unwind in the presence of other gay folks. This boutique accommodation has 5 bedrooms and a communal Mediterranean garden, complete with luscious greenery and swimming pool.
Calipolis is a large beachfront hotel offering unobstructed views across the ocean. This modern and comfortable accommodation is widely popular amongst gay travelers because of its convenient location in the centre of the town, and close to much of the best gay nightlife. Calipolis boasts a large outdoor pool and sundeck and the beach is mere steps away. This is the perfect choice if you want to relax during the day and be immersed in the local scene by night. It's right opposite the gay beach.
Elegantly decorated with a contemporary flair, Hotel MiM is conveniently located next to Sitges' most popular gay beach, Platja de la Bassa Rodona. The hotel is one of the most stylish in the town and has a fresh and exciting atmosphere. The large rooftop terrace features an outdoor pool, bar and offers breathtaking sights across Sitges and the Mediterranean.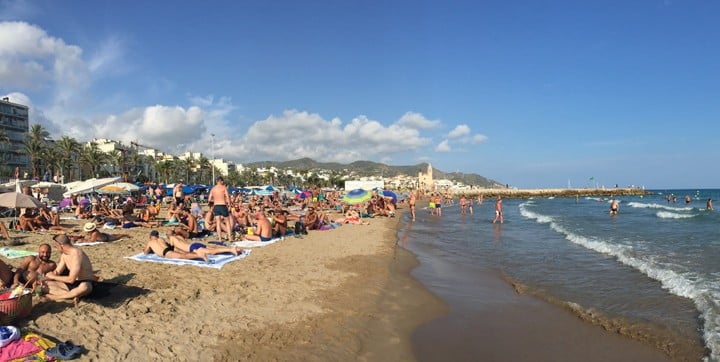 With its reputation as one of the best coastal towns for gay travelers, it's no surprise that there are several gay beaches in Sitges. Soft sand is common here and the warm water makes for refreshing relaxation.
Platja de la Bassa Rodona is Sitges most popular gay beach and during summer months becomes packed with sun-seeking gay men. Located close to the centre of gay nightlife in the town, the beach is a must-visit location on your Sitges itinerary due to the nearby cocktail bars, attractive guys and laid-back atmosphere.
If the words clothing-optional sound good to you then check out Platja de l'Home Mort - Sitges' primary gay nudist beach. Whilst the beach is a 45-minute walk from the centre of town it is a bustling hub of activity, with the woods and bushes being just as busy as the beach. Parts of the path that lead to the beach run very close to the train tracks, and these tracks are in use, so be extremely careful when making the much-recommended trip to Platja de l'Home Mort.
Barcelona is only a 40-minute train ride from Sitges and is a buzzing hub of cultural and historical significance. There are countless things to do in Barcelona, from exploring Gaudi architecture to touring Camp Nou, there's something to suit every gay travelers interests and tastes. The work of Gaudi can be seen throughout the city, and his gothic style is featured in some of Barcelona's most famous buildings. A number of guided tours can be taken to fully explore his influence on the city.
Read More: A Guide to Gaudi in Barcelona
Barcelona is also home to Eixample, the city's gay district, and an area characterised by its concentration of gay bars and clubs and thriving community. Eixample is definitely worth a visit and its small size means it can easily be explored in one day. Sitges is where you go to party and unwind and Barcelona is where you go for a culture fix. You can also party in Barcelona, should the mood take you.
Read More: A Gay Guide to Eixample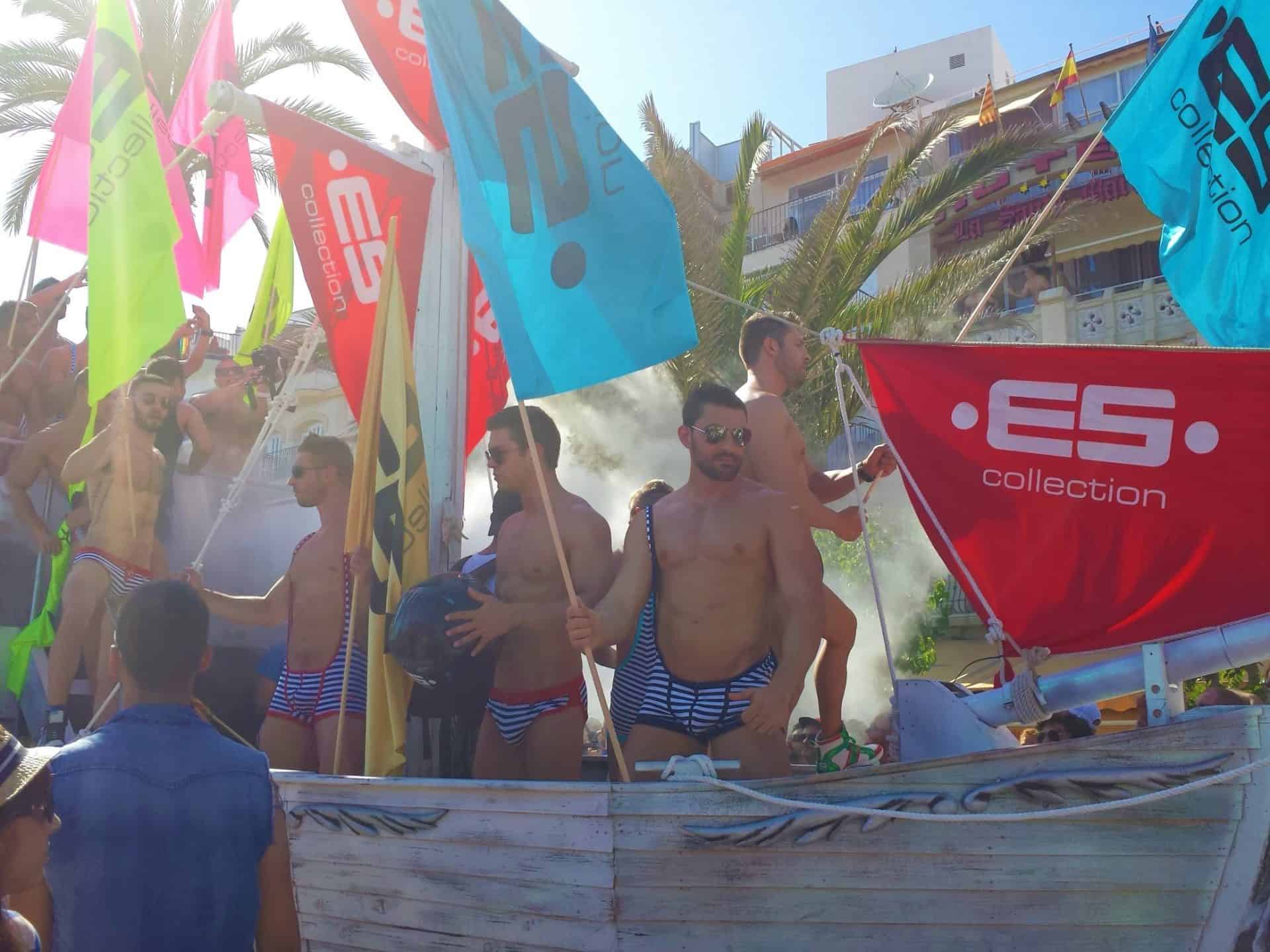 For five days every June, Sitges becomes gayer than it already is, as thousands of LGBT+ individuals descend on the town for the annual pride celebrations. Sitges Pride is often regarded as one of the best in Europe, with a number of beach parties, marches and vibrant parades. During the celebrations over 70,000 people take to the town's streets, dressed in a myriad of regalia and costumes, making Sitges Pride one of the most colourful in Spain.
Sitges Bear Week takes place in September every year and revolves around the El Horno bar, the town's most popular Bear venue. The festival has evolved into a 10-day affair, with numerous events and parties celebrating Bears from across the world.
Gay rights in Sitges
Residents and travelers in Sitges can enjoy the rights and protections afforded to LGBT+ people across the rest of Spain. Gay marriage has been legal in the country since 2005 and there are a number of laws that protect LGBT+ people from discrimination and danger.
Despite Spain being a largely Catholic country with 69% of the population identifying as such, the majority of the public have an open and accepting attitude towards LGBT+ people. Sitges' identity as a global hotspot for gay tourism also means that social attitudes are likely to be more liberal here than in the rest of Spain, with the locals being reliant on LGBT+ tourism. Gay travelers should feel safe and comfortable when exploring Sitges and the surrounding area. You'll find many LGBT+ residents including those from other countries who flock to Sitges each summer and their second homes.
Join the Travel Gay Newsletter
More Gay Travel News, Interviews and Features
The Best Tours In Sitges
Browse a selection of tours in Sitges from our partners with free cancellation 24 hours before your tour starts.
The best experiences in Sitges for your trip