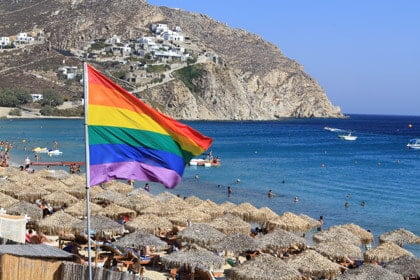 Mykonos vs Ibiza vs Sitges - which is Europe's best gay destination?
Which is better? We compare Sitges, Ibiza or Mykonos, three of Europe's most popular gay beach hotspots.
Travel Gay's team has been to Ibiza, Sitges and Mykonos on many occasions. Here's our comparison of these destinations and our rankings for the gay beach scene, gay nightlife, hotels, restaurants and overall value for money in Europe's best gay beach destinations.
Beautiful, spacious gay beach about 30 minutes by car from Mykonos Town.
Utterly chic gay (and straight) nightlife with gay bars that open all night long.
Premium prices for almost everything.
The Greek island of Mykonos is a very large rock in the middle of the Aegean Sea. Everything, from bottled water to champagne and men is imported.
Beyond the irresistibly chic white-washed town and beautiful beaches, the Island has few other attractions. But to worry about that is to miss the point.  You come to Mykonos to hit the beach, enjoy the restaurants and to see and be seen in the bars. Its popularity grows every single year.
The two main gay-popular beaches are Elia and Super Paradise.
The most popular is Elia Beach. It's a mix of fine and coarse white sand is gently lapped by crystal clear water. During July and August, the beach attracts a thousand or more guys every day. The gay beach area is also remarkable peaceful (no loud speaker systems pumping out music).

Sun loungers and sunshades are available for rent and an "at seat" food & drink service is available. Elia Beach restaurant offers an extensive menu including excellent fresh fish. At the far end of Elia beach, there is a cruising area that gets interesting in the early evening.
Super Paradise, as a gay-popular beach, has enjoyed a renaissance in recent years with the opening of the very gay Jackie O's Beach Club. As the day progresses, Super Paradise comes alive with music and a party atmosphere takes over.
Mykonos Gay Nightlife
Mykonos attracts so many gay travelers that it can sometimes feel the whole town is part of the scene.
Whilst lacking the big dance clubs that Ibiza offers, Mykonos gay nightlife scene is a magical all-night experience attracting the beautiful and rich from around the world. Dress to impress and be prepared to start late – most bars don't get going until after midnight. The world-famous Jackie O's in Mykonos Town is where you'll find guys of an evening as well as the Elysium Sunset Bar which is great for a cocktail and a view as the sun goes down.
Mykonos Hotels
Lots of new hotels have opened on Mykonos in recent years, particularly in the boutique and luxury sector. However, accommodation remains expensive in comparison with Ibiza or Sitges.
Mykonos Restaurants
Mykonos Town packs in an astonishing range of restaurants from traditional Greek taverns to a growing number of sophisticated, budget busting fine dining experiences that would not be out of place in London, Paris or New York. The culinary diversity in this small town is truly remarkable.
Mykonos - Value for Money
Without doubt, a holiday on the magical island of Mykonos can never be called cheap. Expect to pay premium prices for almost everything. Flights, hotels, restaurants and bars are generally more expensive than Ibiza or Sitges.
When to go to Mykonos
Mykonos is very seasonal with the vast majority of tourists visiting between early June and the end of September. August and early September is the peak of the season.
As a benchmark we based our assessments on a total planned spend of $2,500 USD per person for a one week holiday in peak season (excluding flights).
Read More: Things To Do In Mykonos, How to get a taxi in Mykonos.
Popular and beautiful gay beach, in an out of town location.
Excellent gay bar and clubbing scene.
Hotels, restaurants and flights are relatively expensive.
Ibiza is renowned for its legendary nightlife and sunset beach parties.  Most gay travelers don't venture much beyond the (historic) Ibiza Town and Playa Es Cavallet gay beach. But Ibiza is a great place to explore, with plenty of sights to see.
The soft white sandy Es Cavallet gay beach is a real treat. In July and August, you can expect to find a thousand or more guys soaking up the sun. Even in June and September there will usually be hundreds of guys topping up their tans. The bushy area behind the beach is a popular cruising area.
The beach is about 5 kilometers from Ibiza Town, so you will need to hire a car, motorbike or catch a (crowded) bus to the beach car park, then walk along a sandy path for 10 minutes to reach the gay area.

Sun beds and umbrellas are available for rent.  The stylish Chiringay restaurant and bar offers a wider range of food (including some excellent fresh seafood) and drinks, but expect to pay premium prices.  Read more about Es Cavallet here, or watch the video!
Ibiza Gay Nightlife
Things might not be so wild as they were a decade ago, but the gay nightlife does not disappoint.
The is an excellent selection of gay bars in historic Ibiza Town. But it is the big gay dance parties, held three or four times a week with international DJ lineups that are the main attraction.
Ibiza Hotels
Most gay travelers stay within walking distance of Ibiza Town center. There is a relatively limited choice of good quality hotels in this area and prices are not cheap, particularly during peak season. Read More: Ibiza Gay Rated Hotels.
Ibiza Restaurants
Ibiza Town has a lot of touristy restaurants, but not much variety between them. The island does have its culinary gems – you just have to look a bit harder to find them.
Value for money
Ibiza is not as expensive as Mykonos, but not as cheap as Sitges. Hotel and flight costs rocket during August.
When to Go To Ibiza
Ibiza season runs from May to October.  July and August are peak season, but June and September great times to visit as the beach is less crowded and hotels offer better value for money. Most of the gay nightlife, restaurants and shops in Ibiza Town close from end October to May.
Very popular, sometimes too crowded, but very easy to reach gay beach.
Friendly gay bar scene and numerous wild cruise clubs and dark rooms.
Significantly cheaper than either Ibiza or Mykonos.
This beautiful Spanish coastal town has been a gay destination for decades. Indeed, the Pink Euro is a vital part of the local economy.  In addition to the gay beach and gay nightlife, Sitges has one big advantage. The town is 30 minutes by train from Barcelona, a city with an endless number of sights to explore and a very extensive gay nightlife scene to experience.
Platja de la Bassa Rodona is just across the promenade from the town center, and so just a short walk from most hotels. Whilst not as naturally beautiful as the beaches on Ibiza or Mykonos, the soft light brown sand attracts plenty of guys of all ages.

Sitges is particularly popular with the fun-loving "past-clubbing" generation, bears and groups of guys of all ages looking for a value for money beach (& shagging) holiday.
Sunbeds and umbrellas are available for hire, although they can be in short supply in peak season. Two beach bars serve drinks and provide a chill-out musical accompaniment to the sunset. There is a huge choice of restaurants and cafes along the promenade and in the town.
There are also two nudist beach options in Sitges, should getting an all-over tan be important.
Sitges Gay Nightlife
Sitges has a thriving gay bar scene. The scene is relaxed, friendly and a lot less glitzy than that found in Ibiza on Mykonos. Drinks are generally cheaper too.
Sitges is particularly well known for its no-holds-barred cruise clubs where, after midnight, pretty much anything and everything happens in the dark rooms.
Sitges Hotels
Sitges has a good selection of relatively small hotels in or close to the town center, plus a couple of larger luxury options a bit further away. Prices are cheaper than in Ibiza or Mykonos but book early as many hotels get fully booked for Gay Pride week in June, all of July and August. See our recommendations here.
Sitges Restaurants
Sitges has plenty of restaurants with something for everyone's taste and budget. There is a wider choice of fine dining experiences in nearby Barcelona.
Sitges - Value for Money
Flights to the nearby Barcelona El Prat Airport, hotels, restaurants and even drinks in the bars are cheaper in Sitges than in Ibiza or Mykonos.
When to go to Sitges
July and August are the hottest months and the beach and bars are packed.  April to June, September and October are excellent times to visit - the weather is usually good and the nightlife slightly more relaxed.  Much of the gay nightlife is open all year around.
Read More: Things To Do In Sitges.
Join the Travel Gay Newsletter
More Gay Travel News, Interviews and Features
The Best Tours In Ibiza
Browse a selection of tours in Ibiza from our partners with free cancellation 24 hours before your tour starts.
The best experiences in Ibiza for your trip