Gay San Francisco
San Francisco is at the heart of gay culture, with the famous Castro perhaps one of the USA's most important gay destinations. San Francisco has one of the largest LGBT communities in the world.
Book A Travel Gay Approved Hotel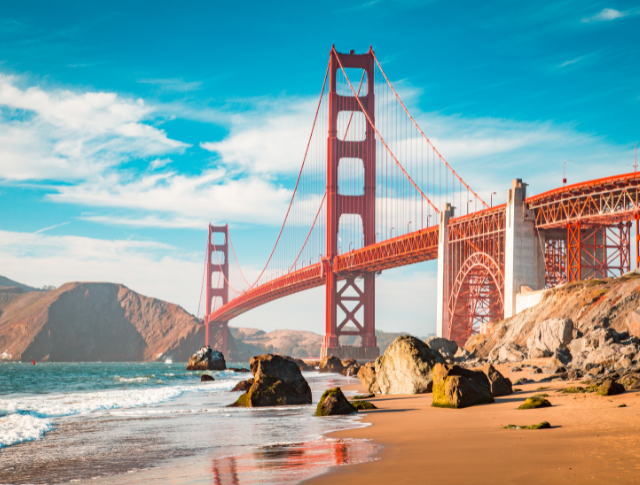 About San Francisco
Beyond its shimmering skyline and iconic Golden Gate Bridge, the city boasts a vibrant LGBTQ+ culture that has not only shaped its neighborhoods but also played a pivotal role in the global fight for equality. From the infamous Alcatraz Island, once a notorious prison, to the unique charm of Victorian architecture in neighborhoods like Haight-Ashbury, each corner of San Francisco reveals a unique chapter of its history.
Beyond its historical allure, San Francisco thrives as a hub of culture and creativity. The city's thriving arts scene is evident in its world-class museums, galleries, and theaters. The de Young Museum and the San Francisco Museum of Modern Art showcase an array of artistic treasures, while the historic Fillmore Auditorium and modern Davies Symphony Hall host an eclectic mix of performances, from classical music to contemporary acts. 
The Castro, an enduring symbol of LGBTQ+ history, stands as America's pioneering gayborhood and headquarters of the gay liberation movement post-Stonewall. San Francisco's resilience during the challenging times of Harvey Milk's advocacy speaks to its deep-rooted commitment to progress. While the Castro remains a cornerstone, neighborhoods like SoMa and the Mission District also contribute to the city's dynamic identity.
Gay San Francisco - Travel Gay Guide
Trending Hotels in San Francisco
San Francisco Tours
Browse a selection of tours in San Francisco from our partners with free cancellation 24 hours before your tour starts.
The best experiences in San Francisco for your trip