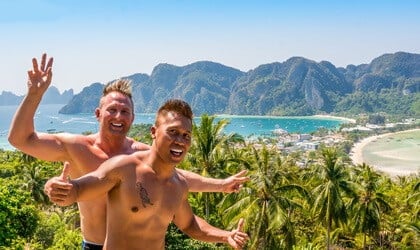 Exploring Gay Thailand - Video
Our good friends Chris Geary and his partner Erick De Chavez spent two weeks backpacking around Thailand exploring Bangkok, Chiang Rai, Phuket, Phi Phi Islands and Krabi.
Chris and Erick traveled very light - just a couple of rucksacks and a video camera. They fell in love with the country, its amazing culture, stunning beaches, friendly people and fabulous weather. Check out this video of their adventure.
(Video not available for viewing in Germany)
> First trip to Thailand?  Suggested two week itinerary here.
Latest Bangkok Hotel Deals
More hotels in Bangkok
In partnership with Agoda.com
Join the Travel Gay Newsletter
More Gay Travel News, Interviews and Features
The Best Tours In Bangkok
Browse a selection of tours in Bangkok from our partners with free cancellation 24 hours before your tour starts.
The best experiences in Bangkok for your trip