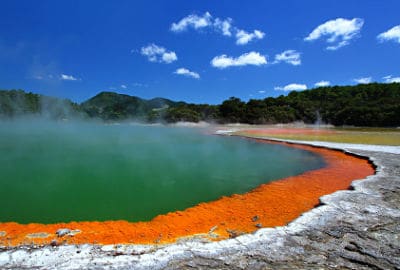 Rotorua
Rotorua, a city in New Zealand's North Island, is known for its peaceful views, lakes and geysers - a major destination for both domestic and international travelers.


For more hotel choices, click here to search all hotels in Rotorua.
Guysers Gaystay (for men)
0
Audience Rating
Based on 0 votes
Guysers Gaystay is Rotorua's ONLY true gay-owned and hosted Bed & Breakfast for men.
The B&B has 2 stylish and well-appointed guest rooms, both have their own private bathroom (one ensuite, one dedicated bathroom across the hall). Room facilities included Queen size beds, in-room tea/coffee making facilities, minibar fridge with drinks and snacks available, ceiling fan, TV, room safe, USB points, 1m x 1m shower, WC and vanity.
Guest facilities include a 5-man spa pool, steam sauna, private clothing optional outdoor area with sun loungers and plenty of seating, a communal lounge and dining room. Breakfast is served daily including fresh fruit salad, cereals, yoghurt, tea or coffee and a cooked breakfast.
Guysers is clothing optional both indoors and out, but this is not compulsory, you can be naked or wear whatever you are comfortable with.
The B&B is walking distance to the city centre with many shops, restaurants and bars and the lakefront and park is nearby. We can assist with making tourism bookings for you and give you great advice.
Guysers has been operating for over 10 years and has excellent reviews. Book well in advance to secure your room, especially in our summer months which sell out fast.
Features:
Free Wi-Fi
Massage
Sun terrace
Jacuzzi / Hot Pool
Weekday: 24 hours
Weekend: 24 hours
Last updated on: 29 Aug 2023
Last updated on: 29-Aug-2023
Have we got something wrong?
Are we missing a new venue or has a business closed? Or has something changed and we have not yet updated our pages? Please use this form to let us know. We really appreciate your feedback.