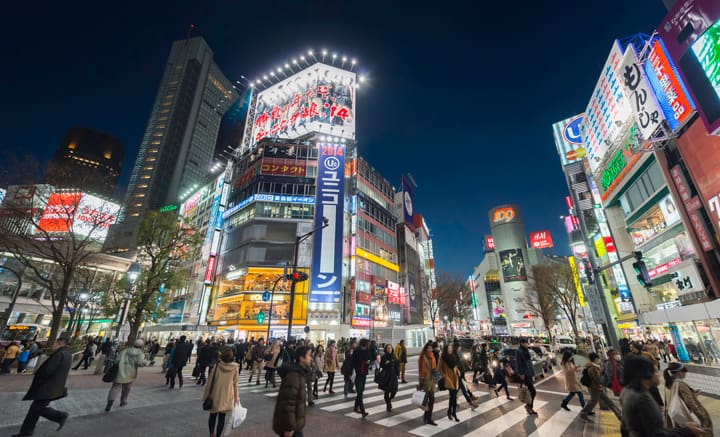 Gay Tokyo · City Guide
Planning a trip to Tokyo? Then our gay Tokyo city guide page is for you.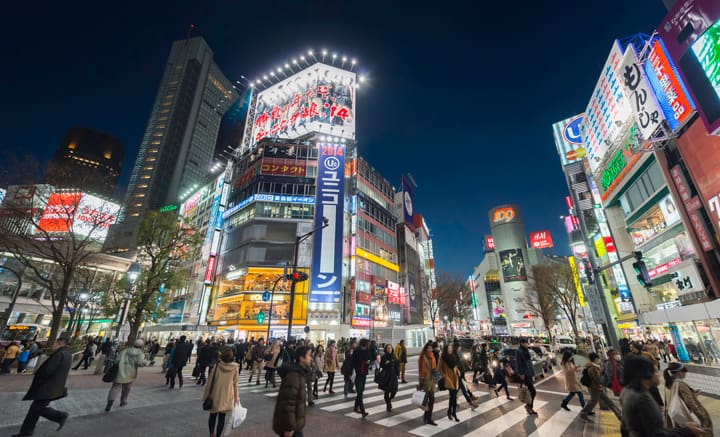 Tokyo 東京
Tokyo is the capital and the largest metropolitan area of Japan. With a population of 13 million, the city has been described as one of the three "command centers" for the world economy, along with New York and London.
The city is also renowned for its exceptional range of excellent restaurants with The Michelin Guide awarding Tokyo far more Michelin stars of any other cities in the world.
Gay Rights in Japan
Currently, there are currently no laws homosexuality, but there is no legal recognition of same-sex relationships. The Japanese culture does not have a history of hostility towards LGBT individuals.
The age of consent is 13 years old. However, all municipalities have their own laws which may prohibit adults from having sex with youths who are under 17 years old. Sex among consenting adults in private is legal under Japanese law, regardless of sexual orientation and/or gender.
Tokyo Rainbow Bridge
Gay Scene
A city of vast contradictions, Tokyo's gay scene is both of restrained and thriving.
Tokyo is separated into different wards, with Shinjuku being the most well-known and the most crowded. The gay community is continuously growing within the confines of Shinjuku Ni-chome (Area 2) neighbourhood. Seemingly straight by day, Ni-chome turns gay by night.
Ni-chome is believed to have the highest concentration of gay bars anywhere in the world because of its small, dense area - a few small blocks intertwined into Shinjuku's busy business, shopping and nightlife centre. Though most bars welcome non-Japanese patrons, the scene primarily caters for its Japanese regulars.
Many gay men still feel restrained by Japan's strict yet unspoken demand for social conformity that is only now beginning to soften when it comes to same-sex relationships. In a culture where homosexuality is ignored more than accepted, and where people are expected to marry into traditional marriages, many gay men choose to anonymously express their sexuality at Gay Bars in Shinjuku Ni-chome.
However, Tokyo's gay scene is not limited to Ni-chome. A number of other areas have several gay bars. Such information can be found in the Otoko-machi map (boy's town map), a countrywide guide to Japanese gay establishments.
Getting to Tokyo
Tokyo's main international airport, Narita, is located 66 km east of Tokyo. Avoid taking a taxi from and to the airport as the fare is exorbitantly high.
The Airport Limousine Bus is usually the most convenient way to get to the city centre. The ticket desk is located right in front of you as you enter arrivals, and the bus stops are immediately outside each terminal building. Buses leave for Tokyo station, Shinjuku station, Disneyland and major hotels. Buses leave every 15 minutes. A one-way ticket costs 3000 yen. Expected travel time is about one and a half hours.
The JR Narita Express Train (N-EX) departs every thirty minutes and serves JR Shinjuku Station, JR Tokyo Station, JR Ikebukero Station, JR Shinagawa and JR Yokohama Station. Follow the signs from inside the terminal buildings. A one-way ticket (depending on destination) will cost around 3300 yen. It takes about 50 minutes to reach Tokyo station from Narita.
Getting around Tokyo
Train
Trains and subways are usually the most convenient form of transportation in Tokyo. The subway is always crowded but the service is punctual, fast and efficient.
Train tickets can be bought from vending machines. Each company has its own, so make sure you use the correct one (JR machines are usually green). Most machines will automatically dispense change.
You don't need to figure out the price of your fare - buy the cheapest ticket, then at the end of the journey, top it up to the correct amount by inserting it into the yellow "Fare Adjustment" machine located near the exit gates. Train service starts around 5am and stops around midnight on most lines.
Bus
Buses are fairly easy to use. Destinations are clearly labeled on the front of most buses, and bus stops are also clearly marked. The flat fare of 200 yen is usually paid on boarding - post the money into the machine next to the driver.
The one-day Tokyo combo ticket can be used on buses as well as the subway and JR railway lines.  There are no night buses. The service usually stops at around 10 pm. Timetable is available from the bus station.
Taxi
For non-Japanese speakers, taxis can be a challenge. You should have your destination written down in Japanese. Taxis are quite expensive. At nighttime, the rate goes up by 20 percent.
Where to Stay in Tokyo
Whether you're in Tokyo to sightsee, shop, eat, explore the gay scene or all of the above, it is always a good idea to stay close to the train/subway station.
Shinjuku, Shibuya and Akasaka/Roppongi districts are recommended for gay visitors, as there is a huge range of accommodations to suit most budgets.
Our recommendations for Budget Hotels, Mid-Range Hotels and Luxury Hotels are great for the gay scene and within easy access to the stations, shops and attractions.
Things to See & Do
Shinjuku Gyoen National Garden, Shinjuku - a large park with nice landscaped gardens.
Meiji Jingu, Shibuya - a 1920 Shinto shrine dedicated to Emperor Meiji and his wife.
The Tsukiji Market, Chuo - the biggest wholesale fish and seafood market in the world and one of the largest wholesale food markets.
National Science Museum, Taito - great museum with exciting multimedia and exhibitions.
Chidorigafuchi, Chiyoda - beautiful place to visit during Cherry Blossom season.
Asakusa, Taito - popular Tokyo neighborhood filled with shops, restaurants and the famous Sensoji Temple.
Sensoji Temple, Taito - one of the most famous temples in Tokyo, located in Asakusa
Sensoji Temple
Tokyo National Museum, Taito - famous museum containing the largest collection of Japanese artefacts and artworks in the world.
Chinzanso Garden, Bunkyo - ancient Japanese garden with historic remains and artefacts.
Tokyo Metropolitan Government Office (TMG), Shinjuku - Also known as "Tokyo City Hall", the TMG buildings have panoramic observation decks that are open to public for free (weekdays until 11ps) as well as gift shops and cafés. Use of cameras is allowed, but tripods are prohibited.
Ginza, Chuo - upscale area with numerous department stores, boutiques, restaurants and coffee shops; regarded as one of the most luxurious shopping districts in the world.
Shinjuku - Tokyo's major commercial district housing the busiest train station in the world, as well as numerous shops, restaurants, bars, nightclubs, massage parlours and entertainment venues.
When to Visit
Tokyo is becoming a year-round destination. The most popular season to visit is summer when it is hot and humid - a great time to explore gay life in Tokyo.
In June, film buffs enjoy the Tokyo Lesbian & Gay Film Festival. In August, thousands turn out for the annual Pride festival. The least popular time to visit Tokyo is during the colder winter months which can be chilly with a chance of snow.
Spring is pleasant because of comfortable weather and cherry blossoms that bloom during the last week in March through the second week in April. The rainy season occurs in June and July, with a chance of typhoons.
Visa
If you are a citizen of one of the over 50 countries, with which Japan has a "general visa exemption arrangement", you need only a valid passport to enter Japan as a "temporary visitor".
Otherwise, you need to obtain a visa before entering the country. Temporary visitors from most countries are allowed to stay for up to 90 days.
Money
The official currency of Japan is the Japanese yen (¥; JPY). Most stores take credit cards, although many businesses and some smaller hotels do not. Some have a minimum charge as well as a surcharge.
Almost any major bank will provide foreign currency exchange.
Tipping
Japan does not have a tipping culture. You will not be expected to tip a taxi driver, in a bar or restaurant.
Drinking Water
Tap water in Japan is generally safe to drink.
Electricity
The voltage in Japan is 100 volt which is different from most regions of the world. Japanese electrical plugs have two non-polarised pins.
Useful Telephone Numbers
The two major emergency numbers of Tokyo are 110 to call in the police and 119 for emergency fire cases and ambulance. These can be dialed from the telephone booths located by the roadsides, and no payment is required as you have to press the red button that is in front of the telephone.  The helpline number of Japan is 0120 461 997.
Tokyo English Life Line: 03 5774 0992 (9am-4pm, 7pm-11pm)
AIDS Helpline: 0120 048 840 (free dial)
HIV & Human Rights Info for English Speakers: 03 5259 0256 (Tokyo)
Join the Travel Gay Newsletter
Have we got something wrong?
Are we missing a new venue or has a business closed? Or has something changed and we have not yet updated our pages? Please use this form to let us know. We really appreciate your feedback.