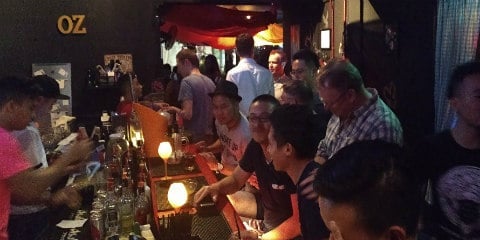 Dorothy's Bar
New gay bar on Trengganu Street.
13A Trengganu Street, , Singapore
Today:
Tiger Crystal Bucket Drink Deal- 5 for $38 - Every Monday
Tomorrow:
Aperol Orange Drinks Deal- 1-4-1 $14 - Every Tuesday
Located in the heart of Chinatown, Singapore, Dorothy's has been attracting a wide and diverse crowd since 2015. Having weathered the closures and pandemic and a small glam touch up Jimmy and the team are back to welcome you!!

Dorothy's is a great place to meet new friends and have a good time, with regular themed nights you will have the opportunity to enjoy a wide range of cocktails, beers, and wines all night long, and promise to have the strongest drinks in town!

With its large L shaped terrace, you will be spoilt for choice with it's inviting and cozy interior to it's fresh and open exterior to soak up the local culture including the unparalleled views of the Chinatown streets.
Features:
Bar
Free Wi-Fi
Music
3.7
Audience Rating
Based on 26 votes
Warm welcome to the city!
Warm and inviting gay pub in Singapore's Chinatown. Nice vibe and friendly patrons, made to feel like one of the locals whilst on holiday! Located close to other 'gay spaces' to make for a good night and then some! Kudos for those Pina Colada's! Thanks, Rob & Co!
Home away from home
The best gay bar in Singapore just because of the great team that works there and make you feel like home. From the minute you step in, everyone is so welcoming and very friendly. The best place to make friends if you are new/alone to the city; and trust me, you never know where could a night at Dorothy's lead to. I can just assure you that you will have unforgettable memories and friends forever.
Cosy little bar.
Upon entering the bar, one is made to feel very welcomed. Drinks are served promptly and what I do like is that the staff constantly make their rounds around the bar checking up on customers and their drinks. If you're almost done with yours, they'd ask if you would like another. At some other places, your drink takes forever to arrive, and not to mention the bill too. I have made some good friends here and would definitely recommend lone travelers to drop by. It is also filled with quite a number of regular customers who are nice enough to introduce you to their friends. One must remember that drinks are all double shots, so if you can't handle your alcohol, don't blame your hangover on your lack of ability to do so. A good drink to start off with is always their Espresso Martinis!
Great bar, friendly staff
A great little bar in Chinatown. A little difficult to find the entrance at first, you can spot the bar terrace upstairs from the street. We kept asking the store holders downstairs until we eventually got there. Very friendly waiters, nice atmosphere.
Thank-you team
Missing Jimmy and the team. No Place Like Home
Best Gay bar ever
Have been made so welcome each time I visit. Feel so at home there. Cosy, relaxing and a very happy place.
Very Nice
It's nice place. It's not a club, just a bar to chill in or to spend some time before party. The stuff is amazingly nice and helpful! Very nice place.
Very friendly
Visited for a few nights, not easy to find just look for the flag. Drink prices are average for Singapore gay bars. Very cosy and relaxing venue. Met a very nice lad called Daniel from China there. Best bar in in Singapore.
Wonderful place. Great environment.
Very friendly place to visit. Prices are standard (or what seems standard). Great local feeling bar with nice environment to relax in.
Fab Night Out!
This place is really fab. I came here a few years back and came again on work trip to find under new management. Hot staff hahaha.. really nice vibe and great drink promotions like 1-4-1's and stuff so good for travelers like me as Singapore is expensive! Went on weekend and they had an all you can drink night!!! one note to anyone is that the entrance is found on Temple St near the tailors shop but easy too find if you look for the flags. well advised.
Delightful
A charming oasis in bustling Chinatown. Aze and his team made us very welcome and we had a couple of enjoyable evenings there. Staff and fellow customers were very friendly. The whimsical Wizard of Oz decor is cleverly done and adds a nice ambience. We'll be back
Great Evening
Thanks, all of you, had the best night out for a LONG time.........the bar manager and the brothers and the yank..........such great music and company, recommended, for me best in Singapore, cheers guys xox
The Balcony is back!
The Balcony is back in business! (complete with new owners it seems) I am a frequent visitor to Singapore and look forward to checking Dorothy's Bar at a favorite location. I wish you well.
Great Opening!!!
Hey Dorothys! Thanks so much for the hospitality on your opening!! I was here a couple of years back and just back in town. Shocked and happy at the transformation! Keep up the good work. Love the yellow brick road stairs.!! hahahah awesome stuff! will be back.
Soft Launch on 6th June
Dorothys opened on our soft launch only on 6th June! Maybe we were still under renovation??? Sorry for the problem encountered. We opened last night on 6-6-2015, do swing by for a small drink on us. Open daily from 6pm-1am and 6pm-2am on Saturdays. Thanks for taking the time. Do follow the flags and signs and we hope to see you now we are open. Thanks! [verified management comment]
Nothing there
Nothing there no sign, no anything. So went for dinner then to Neil Road, and found all the others with no trouble 0 STARS
Enjoyable Escape from Hot Hanoi Afternoon
I took the chance to visit ZSpa on a recent trip to Hanoi. It turned out to be a very pleasant escape from a very hot Hanoi afternoon. My experience was similar to a previous review here. At reception on ground level I was handed a menu (same info as the website). I chose a 90 min massage. You are the taken up one level to select a masseur. My chosen masseur then led me upstairs to a smallish room. You undress and you can put your valuables in a small locker there. The masseur then showers you which in my case included a simple back scrub. A good start as I found that quite enjoyable. You wait in the room for a couple of minutes whilst the masseur showers himself and gets ready. The massage itself was good and thorough, my masseur Binh really applied himself to the task, checking along the way to confirm what he was doing was ok and working on every part of my back, shoulders, arms and legs. After getting me to turn over he did also spend some time on the front. He incorporated a facial and hot stones in the massage. I thought my masseur was attractive and quite engaging. He delivered a good competent massage service. Close to the end of the expected time, I am pleased to say I did get to have a bit of fun with him and a nice ending. After the massage, my masseur helped me to shower again. Very nice! Most of the masseurs there seemed quite attractive. The facilities are basic but clean. The standard of English is pretty limited but I found it sufficient. It is expected that you tip the masseur so you should factor that in. It is an essential part of how they make a living. If you are happy with the service the tip might be a significant portion of the cost. Overall, a very enjoyable experience and reasonable value. I would happily go back again if I had time in Hanoi.
Comments / Reviews are the subjective opinion of Travel Gay users, not of Travel Gay.