Phuket Vs Koh Samui - Which Island to Visit?
Contrasting two of Thailand's most popular islands
The islands of Thailand offer distinctive and remote getaways in a warm and sunny climate. The two most popular Thai islands are Koh Samui and Phuket but choosing which tropical paradise to visit is a difficult task, as both have their own unique character.
So, take your pick, Koh Samui or Phuket?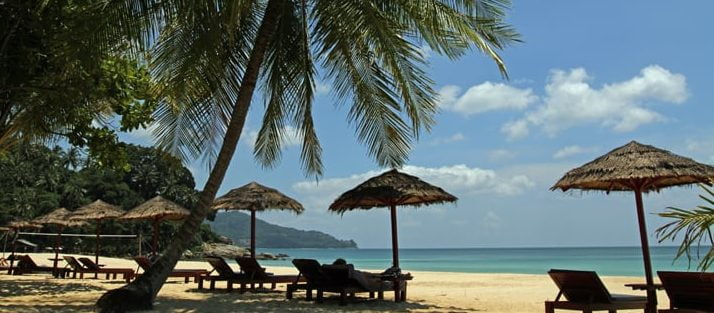 The beaches of Koh Samui are stretching, soft and white. The island is more popular with families and couples than Phuket and the beaches are well looked after and clean. Luxury is king here and there tends to be plenty of day beds on the beaches that are often privately owned by individual resorts, making for the perfect place to doze off or bask in the sun.
Seemingly floating in the crystal waters of the Andaman Sea, Phuket is a mountainous and rocky island. The beaches here are harder to reach than in Koh Samui. However, the rugged coastline boasts a beautiful collection of small coves and lagoons that make for the perfect secret beach spot. The Koh Samui coastline is very gentle and the sloping beaches are accessible in almost all areas.
The beaches in Phuket are thriving hives of activity. Here, the backpackers and travelers who arrive in their thousands every year take to the beaches to enjoy the booming party atmosphere. Particularly on Pa Tong beach, the crowd is lively, raucous and energetic.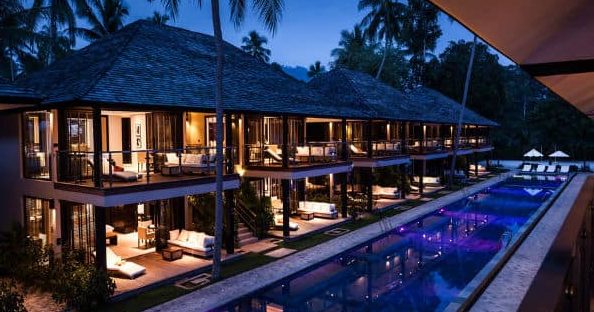 Koh Samui and Phuket both claim some of the world's most luxurious resorts as well as a range of smaller budget options. Phuket is Thailand's true party island and many of the hotels here are geared more towards hedonistic fun than peaceful charm. One of the most popular hotels in Phuket is the gay-owned CC's Hideaway Hotel, located close to Pa Tong's nightlife centre. Decorated in a traditional Thai style and boasting a large outdoor pool, the hotel is the perfect base from which to be immersed in the lively local culture.
Koh Samui still has a vibrant nightlife scene and is by no means boring, however, it is the home of numerous high-end luxury resorts. Spilling onto the beaches, many of the hotels on the island offer complete tranquillity in the Gulf of Thailand. Beachfront properties are commonplace in Koh Samui, and many will offer bedroom views onto the blue ocean. Whilst the Muang Samui Spa Resort is located close to the island's main town, it is a haven of peace and quiet as the surrounding jungle provides a barrier to the hustle and bustle. Each room at the resort has an ocean, garden or pool view balcony.
If you're after an action-packed and lively stay, then Phuket has the hotels for you, however, gay travelers seeking a romantic getaway in a tropical paradise may prefer the quieter and more luxurious options on offer on Koh Samui.
Culture And History
The Thalang National Museum showcases the Adanam region's long and fascinating history. Located in Thalang, Phuket, the museum is an unmissable attraction for those keen to learn more about the heritage of the island. There are a range of exhibitions on show which chronicle the islands indigenous Sea Gypsy community and Chinese heritage. The whole island is teeming with cultural landmarks such as the Big Buddha, the Old Town and the live farming museum.
Whilst Koh Samui is certainly not devoid of cultural and historical importance, the draw of the island is its totally unique landscapes and natural wonders. One of the most popular sights on the island is the Hin Yai and Hin Ta rocks, where the landforms naturally resemble an intimate part of the male anatomy.
Culturally, Phuket takes the lead from Koh Samui, but when it comes to unforgettable natural sights Koh Samui has plenty.
Gay Scene in Phuket vs Koh Samui
With its lively, raucous and energetic gay scene, Phuket has more gay nightlife venues than Koh Samui, think Bangkok by the beach. The gay scene in Phuket is largely concentrated around Pa Tong's 'Paradise Complex'- a network of pedestrianised streets that are home to many gay clubs and bars. Pa Tong beach also has an unofficial gay section that can be identified by the large rainbow flags.
Koh Samui isn't about crazy nightlife, yet it has a small and compact gay scene that includes a number of bars, clubs and saunas. Most of the gay venues can be found in the Chaweng beach area.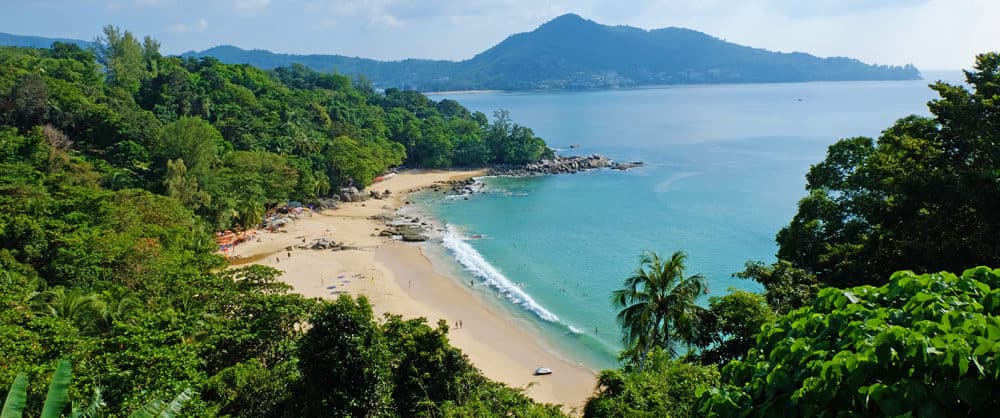 Food
The dining scene in Phuket tends to be more traditionally Thai, with many cafes and restaurants serving authentic local cuisine. Whilst there are of course many western eating options, the main culinary attractions are the street food vendors who can be found in Phuket Town. The island has been influenced by a variety of cultures throughout its history and as such the local cuisine is a truly unique fusion of flavours and smells.
In the tourist areas of Koh Samui there tend to be multiple streets dedicated to cafes and restaurants. Eating on the island can be more convenient than on Phuket as the large tourist population has led to an influx of western establishments. The island is great for travelers who like home comforts when abroad.
Which is more expensive – Phuket Or Koh Samui?
Neither island is significantly more expensive than the other. Koh Samui is generally home to higher-end establishments and hotels and is also more costly to reach. Whilst prices are generally similar across the board, Phuket has a greater range of hotels and activities for all budgets. However, the amount of large shopping malls, clubs and watersports activities means that staying on Phuket is likely to end up being more expensive. For the best value on both islands, consider travelling outside of peak season.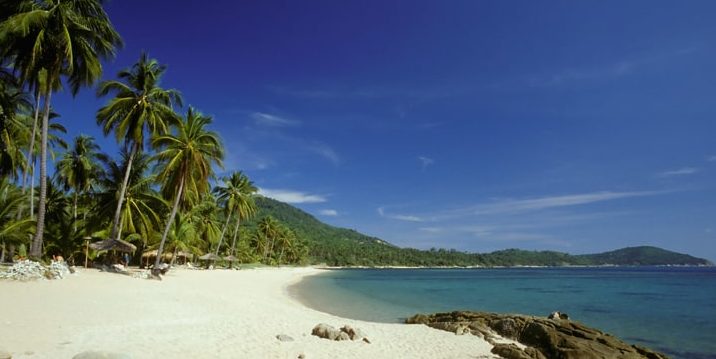 Which is easier to get to - Phuket or Koh Samui?
Both islands are relatively easy to reach as both have accessible airports. However, when it comes to ease of travel, Phuket definitely takes the win. The island can be reached by bus, train, plane or boat, meaning you're spoilt for choice when travelling to Phuket. The ferry is a popular way to reach the island and it tends to be the cheapest option.
Koh Samui is only reachable via plane, and whilst this is quick and efficient, it is generally much more expensive than travelling to Phuket. However, if you're looking for luxurious relaxation, then the extra effort is definitely worth it.
Join the Travel Gay Newsletter
More Gay Travel News, Interviews and Features
The Best Tours In Koh Samui
Browse a selection of tours in Koh Samui from our partners with free cancellation 24 hours before your tour starts.
The best experiences in Koh Samui for your trip