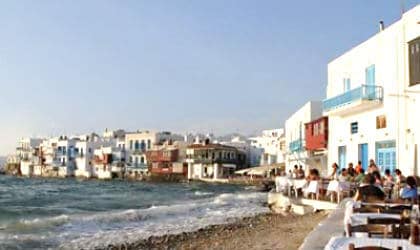 Our Top 5 Gay Mykonos Travel Tips
Mykonos is one of the top gay destinations in Europe. It offers guaranteed summer sun, some great beaches and a wild nightlife.
There are even some good archaeological sights for those who want to add some culture in their holiday. No wonder it has lent its name to so many gay bars and saunas around the world.
Here are our top five gay travel tips to get the most out of your gay Mykonos holiday.
1 - Beach
If you want sun and sand, Elia Beach should be your number one choice. It is one of the largest beaches of the island with clear, safe waters.
The section on the right is nudist and progressively more gay. If you continue walking, the next few coves are exclusively gay with some serious cruising among the rocks.
You may also want to try Super Paradise. This used to be the main gay beach of the island, but it's now mixed and a large campsite has taken over. However, there's still a large gay section on the right hand side and the party in the beach bar starts around sunset every day.
2 - Culture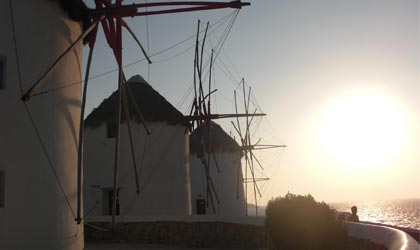 Strolling around the beautiful Mykonos Town and viewing Little Venice from the Windmills is an unmissable highlight.  If you want to add some more culture to your holiday, the Mykonos Archaeological Museum (Tue-Sun 09:30-15:00; €2) has interesting finds from nearby islands including a butch torso of Hercules.
However, nothing beats a half-day excursion to The Unesco Heritage site of Delos, an island 3.5km southwest of Mykonos. This is the birthplace of Apollo, the god who defined male beauty in Western art.
In season, boats leave for Delos from the left of Mykonos Town harbour from Tue-Sun at 09:00, 10:00 and 11:00 returning at 14:00, 15:00 and 16:00. You can buy tickets from a kiosk at the front (€17 return).
3 - Food
Mykonos town has an excellent selection of restaurants to choose from, but try Nikos at least once (Agias Monis; noon–late). In times past Nikos was the main "gay" restaurant, and the place where you could meet the island's famous pelican, Petros. Pelicans come and go, gay rights have vastly improved, but Nikos is still there offering a special welcome to gay tourists with his homemade cooking.
4 - Drink
Catch some sleep before you go to the gay bars such as Lola (Pitaraki & Mitropoleos; 19:00–late).
The two biggest gay bar / clubs are next to each other by the Old Port and don't get going until after midnight: Babylon with its international Djs and Jackie O' with its drag queens.
5 - Cruise
If at any time you feel horny, you can try the two main cruising nightspots. The Public Toilets opposite Glam next to the Town Hall have had no electric lights for several decades, for a good reason. Police and the authorities know very well what is going on, but they let them operate as an unofficial darkroom.
If you walk further up, beyond Babylon, you'll find the church of Paraportiani. It is one of the most important religious monuments in Greece, dating from the 1400s, but after 03:00 the old doorways that used to house monks serves as a gay cruising site. The narrow pebbly beach behind Paraportiani is also full with guys looking for a partner for the night.
Join the Travel Gay Newsletter
More Gay Travel News, Interviews and Features
The Best Tours In Mykonos
Browse a selection of tours in Mykonos from our partners with free cancellation 24 hours before your tour starts.
The best experiences in Mykonos for your trip