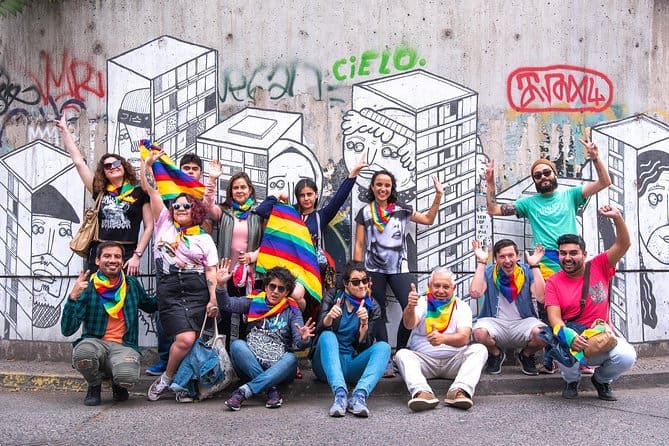 Things To Do in Santiago
Discover Chile's vibrant capital city
With 40% of all Chileans calling Santiago home, this really is a city like no other. A hub of cosmopolitan living situated in the middle of the Andes, Santiago is packed with culture, culinary adventure and natural beauty. The city is incredibly international and is a regional capital for finance, politics and cultural exports. Bustling nightlife and distinct local neighbourhoods give Santiago an eclectic yet sophisticated atmosphere.
Santiago is lucky enough to boast a big and diverse gay scene that is mainly focused around the Bellavista neighbourhood - the city's bohemian district. Chile has seen rapid and dramatic advancements in the quality and rights afforded to LGBT+ people in the country and this paired with an ever-growing gay scene make Santiago one of the most exciting gay travel destinations in South America.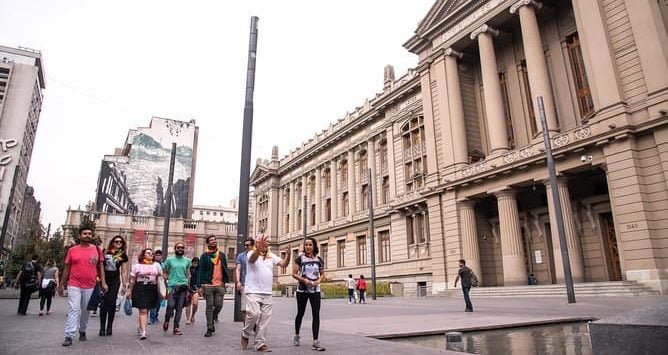 The majority of gay bars and clubs in Santiago can be found in the Bellavista neighbourhood, a quirky and edgy part of the city. The main street for gay venues in Bellavista is Bombero Nuñez. One of the highlights of the street is Dionisio, a lively gay bar that is a favorite amongst locals and draws in mixed crowds. The crowning glory of Dionisio is the revolving roster of drag queens, who perform nightly and showcase a range of comedic shows.
Situated in a four-storey basement venue, Illuminati is a vibrant and energetic gay club that is a popular hangout for the local community. The club has a loud and proud atmosphere and welcomes guests from across the LGBT+ spectrum. Delicious drinks, industrial decor and great themed events all make Illuminati one of the most unmissable fixtures of the local gay nightlife scene.
A trip to Santiago wouldn't be complete without visiting South America's oldest gay disco - Fausto. Since 1979, the club has provided a safe and inclusive space for the city's LGBT+ population to let loose and enjoy themselves. With dark wood interiors, Fausto is reminiscent of an old fashioned gentleman's club and routinely sees large and lively crowds.
Bellavista
Bellavista is not only known for its gay scene, it's also one of Santiago's most edgy and bohemian districts. The area is a massive expanse of tiny streets and leafy avenues populated with tiny handicraft stores and creative boutiques. An atmosphere of creativity and community can be sensed in Bellavista and the strong LGBT+ population here confirms this. Amongst the splattering of gay clubs and bars, there is also a small selection of LGBT+ community centres and spaces.
Given its reputation as a capital of art in the city, it's no surprise that Bellavista is home to a number of markets and merchant areas selling individually handcrafted goods and artworks. Avenida Bellavista is the neighbourhood's jewellery quarter and it's here that you'll find the best locally crafted pieces of fine metals and gems, in particular, lapis lazuli.
Sky Costanera
Rising up out of a grey concrete skyline and casting a stark contrast to the mountain ranges behind it, Sky Costanera is the second tallest building in South America and the fourth tallest in the southern hemisphere. The tower is home to an observation deck that grants visitors some of the most awe-inspiring views of Santiago, especially during sunset when the entire city glows orange.
The 360-degree observation deck frequently plays host to cultural and artistic events so there is usually something going on, and the building's lifts operate from 10 am until 9 pm. The best time to visit the tower is in the early evening in winter months, when the air is crisp and there will be little to no smog.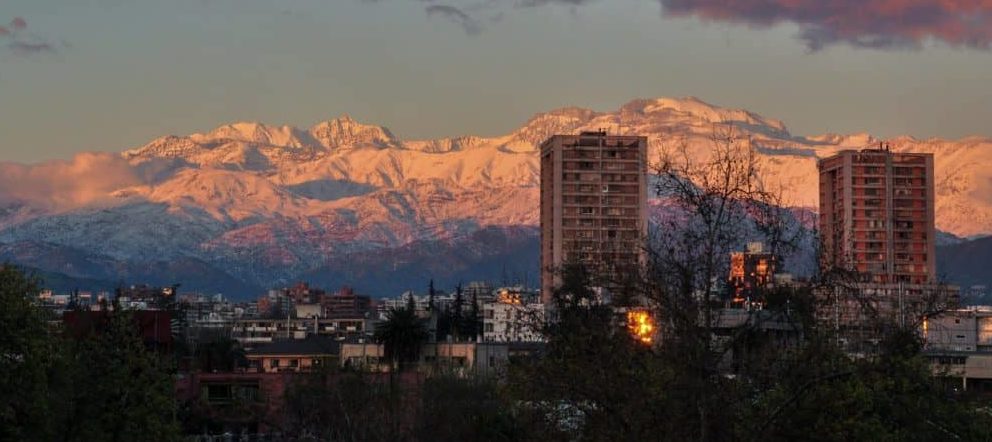 Cajon del Maipo
Standing in front of the vast Cajon del Maipo gorge is guaranteed to be a humbling, inspiring and beautiful experience. The expansive and stunning valley is a popular location amongst Santiagians, who flock here on the weekends to enjoy a range of outdoor and adrenaline activities. In the summer, rafting and kayaking are popular options, whereas in the winter hiking and skiing are more favoured.
The gorge is located just 15 km from Santiago's Downtown area and marks the beginning of the Cajon del Maipo. In recent years a number of microbreweries and a large winery have sprung up in the hills of this wondrous valley, and as such, the area is growing an increasingly notable reputation amongst visiting tourists as a capital of culture, food and adventure.
Cerro Santa Lucia
If you're looking from an escape from the bustle of downtown Santiago, consider visiting Cerro Santa Lucia, a charming park built upon the hill of a 15 million-year-old Volcano. The park occupies a high altitude and steep incline making it a truly unique location and the grounds have been perfectly manicured to create a relaxing and inspiring green space. Ornate stairways and paths snake their way up the hill until culminating at a breathtaking observation point which provides more fantastic views across Santiago's ever-evolving skyline.
Cerro Santa Lucia is also home to Hidalgo Castle, a 19th-century structure constructed with the original purpose of functioning as a fortress to protect the city. The building was renovated in the late 20th century and is now one of the most famous preserved heritage sites in Santiago, and well worth a visit.
Valle Nevado
A trip to Santiago would be amiss without a visit to the incredible Valle Nevado. This is one of the largest ski resorts in South America and located just a 90-minute drive from Santiago, it's a must-visit destination. Skiers, snowboarders and thrill-seekers of all ability will find an enjoyable and unique experience at Valle Nevado. Situated in the snowy Andes, the resort is a fantastic place to get uninterrupted views of the world's longest mountain range.
If snow sports aren't your thing, don't worry, as Valle Nevado is home to a number of restaurants, bars and cafes which serve as the perfect locations to sip a cocktail and appreciate the stunning vistas. In summer the area is a popular destination for hikers, bikers and joggers, as the snow melts to reveal a dramatic and totally unique natural landscape.
Join the Travel Gay Newsletter
The Best Tours In Santiago
Browse a selection of tours in Santiago from our partners with free cancellation 24 hours before your tour starts.
The best experiences in Santiago for your trip

Instagram
@
Follow on Instagram
More Gay Santiago