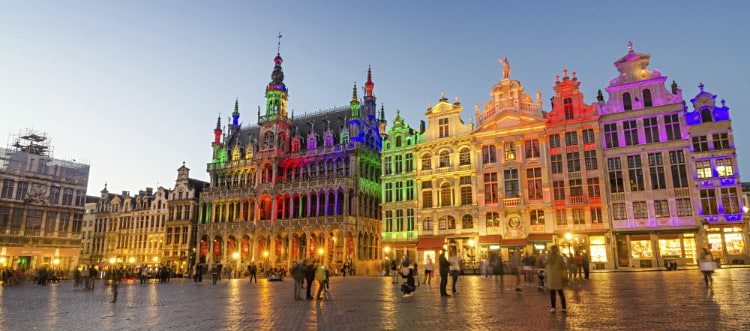 Gay Brussels · City Guide
Planning a trip to Brussels? Then our gay Brussels city guide page is for you.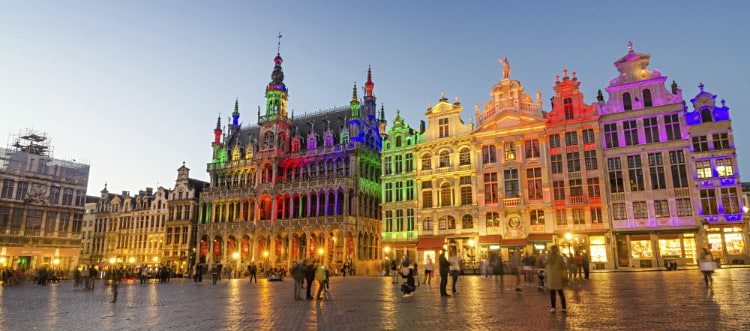 Bruxelles / Brussel
The compact capital city of Belgium, with a population of one million and a wider metropolitan population of twice that figure. It's also the capital of the European Union which therefore Europeans from every member state live and work in Brussels, which together with regular flows of tourists, make for a very cosmopolitan city.
The city has a lively central gay bar and international club scene. It is a popular destination with gay travelers and club goers from throughout Europe and beyond.
Gay Rights in Belgium
Situated in the liberal heartland of Northern Europe, Belgium has a long held and well deserved reputation as tolerant and accepting of LGBT rights, and was just the second country in the world (after the Netherlands) to legalise same-sex marriage - in 2003.
Same-sex activity has been legal for considerably longer (since 1795) and the age of consent was equalised, to 16, in 1985. Adoption rights for gay couples were equalised to those for straight couples in 2006, and there is no ban on gay recruits from serving in the military.
Anti-discrimination laws in employment and social welfare provision came into force in Belgium in 2003, and since 2007 trans-gender rights have been formalised, granting Belgians the legal right to change their gender. In 2014 laws protecting gender identity/expression were formalised.
There are several openly gay Belgian MP's and the LGBT community generally is well-accepted and integrated into wider Belgian society.

Gay Scene
The main gay scene of Brussels is located in the very centre of the city, behind the Grand Place, and is very convenient and easy to find.
The city's biggest and most famous gay dance party is La Demence at Fuse club, which attracts guys from all over Europe. Many guys even take the Eurostar train from London just to attend these monthly mega dance and cruise parties.
Brussels gay Pride festival takes place every May for one week, leading up to Pride Day Brussels on the Saturday.
Getting to Brussels
By air
The city's main airport is Brussels Airport (BRU) with frequent scheduled flights throughout Europe and beyond. The airport train connection runs every 15 minutes from level 1 and takes 15-25 minutes to reach the three main railway stations of Brussels and costs €8.70.
Airport STIB bus 12 (express service before 8pm) and 21 (regular service after 8pm) run every 20-30 minutes and will take you to metro Station Schuman (metro lines 1 and 5). Get tickets before boarding from the machines as they are more expensive on the bus.An alternative bus is the Lijn, 272 and 471 to Brussels North station, just to the north of the city centre.
Brussels South Charleroi Airport (CRL) is used by several budget airlines, including Ryan Air and WizzAir. It's situated one hour south of the city, there is a shuttle bus to connect you to Brussels Midi/Zuid station. Best to book online for your return to the airport to avoid queuing.
By train
Brussels is well-connected to Europe's high speed rail network, with high-speed services using Midi/Zuid station, to the south of the city centre. This is a great option if you are travelling to Brussels from other major European cities such as Paris or Amsterdam (by Thalys) or from London (by Eurostar).
There are also high speed train connections from Schipol Airport via Amsterdam, Antwerp and Rotterdam (by Fyra), and Cologne, Frankfurt (by ICE). Do note to always book high speed train tickets as far in advance as you can, as ticket prices reflect demand.
The Grand Place
Getting around Brussels
If you are visiting Brussels for a few days, you will probably need no more than your own steam to get you where you want to be, with both the gay scene and the major city tourist sites being in the compact, largely pedestrianised central city area.
To explore the wider city, the best option is the reliable, clean and extensive Metro system, which has six lines. Announcements are in French, Dutch and English.
There is also an extensive bus and tram network, for which you can pre-purchase single (Jump one) tickets for €2.10 (bus and tram only) Do remember to validate your ticket once aboard.  For best value if using lots of public transport options, get a hold of a one-day pass (Jump 1 jour / 1 day) for €7.50. Another great way to explore the city is by bicycle - Brussels has a low-cost Villo! short-term hire scheme for bikes with some 180 pickup and drop-off points around the city centre.
Brussels Bike Tours is another option if you want someone else to decide which direction to go in.
Where to Stay in Brussels
The best tourist sights and most of Brussels gay venues are located near the Grand Place. There is an excellent choice of hotels in this area.
For our list of some of the best hotels in Brussels for gay travelers, visit the Gay Brussels Mid-Range + Budget Hotels and the Gay Brussels Luxury Hotels pages.
The Atomium
Things to See & Do
Grand Place - one of the most impressive city squares in all of Europe, is a great starting point and one you will no doubt return to sample the daily flower markets and take in the majesty of the surrounding 17th century buildings.
From here, the city's major attractions are within easy walking distance, with plenty of stops along the way to sample the culinary delights which have made Belgium famous throughout the world – beer, chocolate, waffles and mussels (in whichever order takes your preference).
The Town Hall (Hotel de Ville) in the Grand Place is interesting to visit (note that tours in English are only on Sunday).
The Horta Museum (Musee Horta) - the house of Victor Horta, one of the founders of Art Nouveau. The building is small and only accepts limited numbers each day, so best to get there when it opens, at 2pm.
Belgian Centre of Comic Strip Art, on Zandstraat/rue des Sables, to discover the Belgian origins of Tintin (and The Smurfs!), amongst other cartoon legends.
Musee Rene Magritte, on rue Esseghem is a must see for surrealist painting fans.
St. Michael and St. Gudula Cathedral, at Place Sainte-Gudule, is the most impressive Cathedral in town and the site of Royal weddings.
Notre Dame du Sablon, at Place du Grand Sablon, is a particularly beautiful church to visit in the city centre.
Other uniquely Brussels sites to see: The Parlamentarium, on rue Wiertz, is the visitor experience for the European Parliament, with lots of interactive media displays to keep you interested.
The Atomium at Bruparck, Brussels' futuristic version of the Eiffel Tower, and Mini-Europe for fun models of major landmark buildings throughout Europe.
Les Galeries Saint Hubert is a beautiful designed shopping arcade; the precursor to the modern shopping mall. The glass roof comes in handy on rainy days, for unhindered browsing of the many restaurants and chocolate shops inside.
The Grand Place at night
When to Visit
Brussels gets more than its fair share of rain (on average around 200 days a year) and is generally damp, making winter visits feel particularly chilly. Summer temperatures can vary a lot and the rain can be frequent (welcome to Northern Europe!).
To experience Brussels at its gayest, come for Pride week in mid-May. For gay dance party fanatics, make sure to time your visit around one of the big La Demence parties - weather won't be an issue in this case.
Visa
Belgium is within the European Schengen visa area. If travelling from outside Europe, check to see if you require a Schengen visa.
Money
Belgium is a member of the Eurozone. Cash dispensers are widely available. You may be asked for photo ID if paying with a credit or debit card in a shop.
Other Useful Info
Brussels is officially a bilingual city, which is why you will find street signs in both French and Dutch (Flemish) although in practice French tends to dominate. English is widely spoken, too.
Join the Travel Gay Newsletter
Have we got something wrong?
Are we missing a new venue or has a business closed? Or has something changed and we have not yet updated our pages? Please use this form to let us know. We really appreciate your feedback.