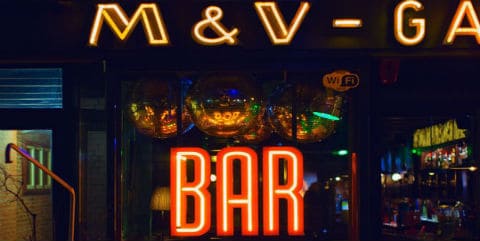 M&V Bar
Popular gay bar on the famous Lange Reihe street.
Lange Reihe 22, Hamburg, Germany, 20099
Stylish gay-popular bar on Lange Reihe street near the central station. M&V's friendly staff serve draft beers, long drinks and an extensive selection of wine in a cosy, cool atmosphere.

Dance parties also feature here. Very crowded on the weekends.
Weekday: 5pm-2am
Weekend: 5pm-2am
Nearest station: U,S: Hauptbahnhof
4.2
Audience Rating
Based on 9 votes
Weekday: 5pm-2am
Weekend: 5pm-2am
Chilled environment
Place is a great value to go to, plenty of good looking people but the bar staff could be a little friendlier. Being a fast beer drinker, I ordered one 5 minutes before closing. The chubby bear was not happy and pretty much slammed the beer in front of me. Out of politeness, left him a tip (almost same amount as the beer was) and the way how he responded was like I've just left him a 2cent tip. When in Hamburg, would I come back here again, no.
Comments / Reviews are the subjective opinion of Travel Gay users, not of Travel Gay.