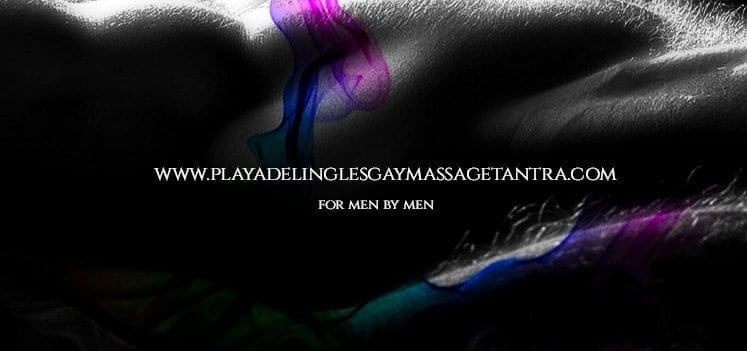 Playa del Ingles Gay Massage & Tantra
Playa del Ingles Gay Massage & Tantra
Playa del Ingles, Gran Canaria, Spain
Tantra and massage services exclusively for men in a private studio near the Yumbo Center in Playa del Ingles.

Martin, a Bodyworker, Tantra & Massage Specialist, is dedicated to the wellbeing and the relaxation of the body, mind & spirit through his techniques.

Out-call service to your hotel/resort available (Tantra sessions only in studio). Appointment required.

Please contact Martin with a message via his whatsapp contact or email below through his official website link.
Features:
Massage
shower facilities
4.3
Audience Rating
Based on 112 votes

2018 Audience Awards
5 Star Winner

2019 Audience Awards
4 Star Winner

2020 Audience Awards
4 Star Winner
Dont think, just book
If you're lookling for a truly tantric experience, dont look any further. A beautiful man in every sense of the word, he deeply understands tantra and provides a transcendental experience that touched me deeply, physically and emotionally.
Playa del Ingles Gay Massage & Tantra
Had tantra massage before, but had a tantra experience with Martin. Martin is a perfect host. He explained what the experience entails and you can choose what is comfortable. I am a straight man, but enjoyed this unrushed treatment. Wonderful!
This massage changed my life
I can't speak highly enough of what Martin massage did to me. I have visited Martin 3 times. The first time I was really nervous and the second and third I learnt how to let it go and the sensations it gave me are unreal. Martin is very friendly and you can feel he doesn't do it only for the purpose of the job. He is very good listener and when it comes to Tantra as a topic, he is giving all the information you want to know. I haven't got enough words to describe the massage itself. There are many wanna be out there that doing "tantra" but it ends up as happy ending , Martin massage is professional, and the goal is not the finish line, the goal is to explore your sexuality on so many other levels. If you want a new and very relaxing experience, don't hesitate to give him a visit. Can't wait to see you again Martin!
Lo mejor ! Le meilleur ! The best !
Every time we return to Playa del Inglés, I make an appointment with Martin for a tantra massage, and so does my friend, as it is the best we have experienced in any city or country we have visited. Martin is absolutely gentle and respectful of the person and the feeling is amazing: the well-being that results from his massages is exceptional, and I look forward to returning soon.
Playa del Ingles Gay Massage & Tantra
My second tantra massage in my life, this time with handsome gentleman Martin. This massage was on an other level. My body, mind and soul say thank you so much. Remember to breath.
Playa del Ingles Gay Massage & Tantra
Martin was a true professional and explained everything to me before the massage. It was a truly amazing and uplifting experience which which lasted for days afterwards. I felt completely relaxed and and was under no time pressure which was great. Thank u Martin .
Blow my mind
This Tantra blows my mind. Martin took me above and beyond. I found Both him and the adventure and the massage adventure really beautiful and unique! Thank you. Pete
Unforgetable massage
Come in and give yourself some time .....just relax and enjoy every single second. Free you mind and Martin will take good care of your entire body and mind.
Wonderful experience!
This was my second Tantra massage, and it left the first very much in the shade. Seeing Martin's beautiful smile when I arrived at his place and sitting down for an initial chat/explanation left me feeling completely at ease with this amazingly calm and reassuring gentleman. The massage was both gentle and strong, pleasurable in every way. The ambience created by subtle lighting and soothing music was (almost) holy. Martin's touch, with or without the use of the warm oil, was so sensitive to my body that my reactions came naturally and spontaneously. The time flew by, and I was left feeling relaxed and calm, having had the loving touch of a handsome and gentle human being. Next time I'm in Gran Canaria, I'll be calling on Martin, for sure. Namaste!
Relaxmassage
Martin is a very professional masseur and I have to say a very handsome man. He has a very good quality of touch, technique and presence. He made me forget everything when I was under his hands, total relaxation. I will see him again for sure. Thank you!
Tantric energy with Martin
Not my first Tantra massage, but this was beyond everything else. True Tantra. This session was an extraordinary amazing experience. It was more than a massage, it was a deep meditation. I was floating on this new beautiful energy for many days after. Martin has a glowing heart, wonderful energy and clearly knows what he is doing. Simply my best experience. He taught me a lot and opened me up for new ideas. Highly recomended
First time tantra - what an amazing experience with Martin
I was new to tantra and even though I was a bit nervous, I felt really comfortable and safe with Martin the moment we sat down to have an initial chat. From guiding me though some of the history to to providing a safe, clean environment to experience this, Martin's caring soul shone through all the time. Definitely worth considering if you are a seeker of the Tantric way.
Tantra bei Martin der hammer
Martin is the best tantra masseur I ever had.
First time Tantra
This was my first Tantra experience and it was truly wonderful. I felt at ease as soon as I met arrived. Martin explained what my first session would include and ensured I was comfortable with everything. The studio was exceptionally clean as were the facilities available to me. Martin guided me through each step of the process ensuring I achieved maximum benefit. Even after the session Martin was willing to sit and talk about my experience and how I felt. Such a beautiful man, ensuring the best for his clients. If you are in the area, treat yourself, it will be worth it. I will definitely visit again when I next visit.
日本人には馴染みがないタントラマッサージ
Unlike gay massage that Japanese people think of, there is no so-called "punch". There is an explanation from the Martin before the massage what kind of thing is the Tantra massage including that.
WOW .5 Stars.
What an fantastic experince i had with Martin today. It was my 2nd visit in a week. The fist was for a massage which was great. The second visit was for the tantra massage. It was wonderful. Martin puts you at ease the molment you come in contact with him. .He is a true gentleman who knows what your body needs and requires from his first touch. Thank you Martin . I wiil return for more treatments in the future. Best to book in advance as Martin is in demand.
My first tantra experience
Arriving nervous to my first tantra massage, I felt immediately at home talking to Martin. I had read a couple of decent books on the subject but I had no idea what to expect. I feel that calling Martin's treatment a "massage" is an understatement as I went through such a roller coaster ride of emotions and sensations during the hours, that felt like minutes. I really felt the love, care and nurture that he gave me and I was able to trust him completely. If you are new to tantra but want to go for it, I can think of no one better than Martin to be your first guide!
Great massage
I had two massages with Martin. A relaxing and a few days later a tantra massage. Both massages have done very well and performed very professionally. By his nature, I immediately felt very comfortable with Martin. I can highly recommend Martin. Was not my last massage with Martin. Many thanks, Martin.
Angel
I have just been seen, heard, understood and touched by an Angel. No words.
Wow what en experience
This is one of the best experiences i have ever had. I got a full fantastic body massage followed by a full body energy orgasm. I have never felt that type of strong energy flowing through my body. Martin is also very professional and we had a little talk before we started and he put me to ease and guided me so gently through the hole process. I would recommend Martin to everyone. He was just amazing.
Again and again and again...
What an experience. Shared energy, opens boundaries. Breath finds rhythm. Universes shine until you come back to earth. Thank you. John
Excellent massage
Having never had a tantric massage before, I was a little aprehensive so decided to book a two-hour relaxing massage with Martin. I was warmly welcomed and instantly put at ease by his professionalism. My massage was excellent - very sensual and thorough and lifted me on to another plane where I was floating in a wonderful place. Martin also energised my body through his touch and I really felt that the whole experience was one of deep connection between us. I am returning to Gran Canaria in October, and will definitely be booking a tantric massage. Can't wait!!
Coming home
With hardly any tantra experience I wasn't sure what to expect, still Martin's comforting and welcoming presence immediately gave me the feeling that I had come 'home'. I'm ever so grateful for his gentle and understanding approach. As much in the manner in which he communicates as well as the way he knows how to touch you. I feel he managed to literally help me open up, facing my blockages and get me on a new track in my life. Thank you, Martin.
Must have massage
I have had tantric massages before, but my experience with Martin was the best I 've had. He is intuitively able to connect and make you feel at ease. His kindness is genuine. I'm sure to book another session when I return to Gran Canaria.
Unforgettable Tantra expirience with Martin
I had a Tantra massage several years ago and it was nice and I felt good. But Nothing to be compared with the great Tantra session of 2 Hours with Martin. He is a real Tantra Champion Guru! I nice friendly welcome makes you feel at ease. He explaines the impotance of deep breathing. Every touch, stroke, massaging of the whole Body from head to toes is orchestrated and makes his Energy flowing into mine. As a tourleader in 80 countries for over 40 years I have many expiriences of massages, but Martins Tantra Genius is Nothing to compering with the other also Pleasant massage Happenings. I highly recommand Martins Tantra session to everyone! Thank you, tüssen tak very much Martin!
Martin´s tantra massage
We had a really unforgetable massage with Martin. It wasn´t our first tantra experience, but with him it was something different, deep and meaningful. After the warm welcome, the peaceful dialogue before the session, we started the massage in a special atmosphere...He was rather professional, quiet and very enthusiastic. We simply loved it. Thanks a lot, Martin. We enjoyed most your way of looking at us, listening attentively and feeling the moment. Be sure we will get in touch with you, and, whenever we visit Playa del Ingles, we won`t miss your massage. "Believe, trust and love"
Beautiful intencive alchemy
In this Tantra session with Martin, we took a journey to a mystical and liberating landscape together. I could let go totaly, and was guided by my self and with the voice, precence and safty of Martin as the force. It was deep and beautiful. So greatfull to experiece this. It really affected me on a deep level of energies. Thank you.
Magic hands
Relax, calm-force, Zen, very nice quality of touch, professional, kindness, sharpness... These are all the attributes I can truly attest to Martin. The more you let go, the more will you enjoy.
Unique
One of the best massages and experiences I've ever had. Martin is a massage and tantra artist. He listens and paints with his hands and heart!
Excellent massage !
I researched what tantric massage was about before I booked my session with Martin. It was a truly enlightening experience and I honestly feel it helped me in, an emotional, spiritual and physical way. I honestly felt like I had been finely tuned after the massage, and felt much more grounded in the days following the massage. I would highly recommend you go to Martin for any type of massage, he is a very friendly and tuned in type of man. And yes! I did go back a second time and I felt like a new man at the end of my holiday. Thank you Martin.. for your expertise, professionalism, and understanding.
One of the best....!
This experience was such an eye opener for me, one of the best massage i've ever had. You feel the flow through the magic hands of Martin going throughout your whole body. It's just a magical experience and will go back to martin whenever I should be in Playa de Ingles!
Fantastic experience
I went in having researched this kind of massage a little bit but not knowing fully well what to expect. I can only report that Martin is a great, a good person. Kind, caring, great hands, clearly knows what he's doing. He somehow is able to really feel what's going on with you in seemingly only a matter of minutes. I recommend him wholeheartedly.
This man is from heaven!
Martin is a unique tantric masseur. After a brief chat, we started the massage, slowly, carefully and with almost instant connection. I got lost in his hands, my body trembled and shook from the positive energy that flowed between us. I felt like a different person after just two hours with him. It is an important experience you will always remember. Jared
Awesome
From that moment of confusion to the moment to absolute clarity. Awesome journey, breathing, massage and an erotic meditation. Thank you.
Open up!
"And let yourself fall in the magical hands and body of Martin. Want sex? Go to Hero's and hope for it. Want the most sensual experience in your life? Just open up, let go and breath with Martin while he is touching every muscle and nerve in your body, and your there. Had a super massage. Only frustrating thing, not able to look into Martins beautiful blue eyes. You have to close them. It's all about you at his place... Thanks Martin and until next time."
First time Tantra massage
I was lucky to find a very professional therapist of Authentic Tantra,and it was a real beneficial and positive experience for me. Thank you, Martin.
Good for soul, body and mind
The Tantra session with Matin was my second experience with Tantra massage. This session was much more intense and from the first moment I felt very safe and secure with Martins heart warmth. The session released big emotions. I could enjoy every moment and surf the wave of pleasure and wellbeing. Martin's strong and loving presence always gave me security. I'm so thankful that I found Martin.
Magic moment
My first experience in Tantra with Martin was successful . I recommend Martin to anybody who wants something different, to renew mind and body on the positive way He is talented, working with passion and energy Thank you so much Martin, I will visit you again for sure
Magic
I am so glad that I found Martin again, after he started on his own. I have already had a couple of Tantra sessions with him last year when I was on holiday. It was extremely powerful. This time the session was stronger then I could imagen. Hands of magic, presence, breathing. I felt my body just shaken, like waves, it never stopped. Martin took my hand, and supported me. It was so wild and crazy. I can even today feel this sensation a couple of day later. Thank you so much. I will never forget the feeling. See you next time I am on the island!
Eufori...
Efter att jag tvekat i många år att unna mig en massagebehandling bestämde jag mig för att nu skulle det ske. Genom en vän kom jag i kontakt med Martin och det var det bästa som hänt. Var tveksam till att jag skulle kunna koppla av och därmed få den sköna massage jag hoppades på, men jag blev så varmt och fint mottagen i en snygg, fräsch och ombonad miljö att jag totalt kunde slappna av och utlämna mig till denna helt fantastiska behandling. Efteråt kände jag mig full av ny energi samtidigt som jag var totalt avslappnad. Kände mig helt euforisk. Längtar redan till nästa semester. Nu känns det lika naturligt att boka massage hos Martin som att boka resa och boende. Är det något jag rekommender i Playa del Ingles så är det ett besök hos Martin. Du kommer inte att ångra dig. Tack Martin / Kjell i Göteborg
First class experience
The tantra massage with Martin was a wonderful experience. He is a really nice guy, very kind and welcoming. I felt totally relaxed and at ease. The massage itself was sensual but also deeply relaxing and nourishing. Highly recommended!
Björn. My first tantric experience
Martin welcomed me in his Bungalow and he explained me about the Tantra philosophy. He was so calm and friendly. As we are both Norweian we could easily communicate. The massage was mind blowing. I will return to Martin in January.
Really great masage
Really a great professional massage and masseur. Thank u Martin for the massage and the relaxing atmosphere. Im sure to repeat. Very recommended.
Qualified masseur
Professional massage and masseur. Good value for money. Very recommended.
An extraordinary massage I will always remember
Even though I have had a couple of tantra massages before, I was a little bit nervous when I met Martin. But with the peaceful environment and Martin's presence and voice I immediately felt completely relax. I decided to trust Martin and put myself completely on his hands. The experience was mind-blowing and I left Martin full of positive energy. I came back one week later for a second massage. At first I was afraid that the second massage would be less intense, but I was wrong, my emotions were the second time even stronger during the massage. I am looking forward to my next holidays in Gran Canaria to experience again Martin's massage.
Danke für diese sinnliche Erfahrung
Lieber Martin, wie du weißt, war es für mich die erste intensive Erfahrung mit Tandra und Massage. Vor dem Termin war ich etwas aufgeregt. Als du mich in Empfang genommen hast, war diese Aufregung wie weggefegt. Du warst während der Sitzung ein sehr sympathischer und liebevoller Mensch. Ich habe mich sehr wohl gefühlt und konnte mich tatsächlich fallen lassen. Vor diesem "Fallenlassen" hatte ich ein wenig Angst. Diese Angst hast du mir jedoch schnell genommen. Es war eine so wunderbare Erfahrung für mich, dass ich es viel öfters genießen möchte. Auf dem Weg nach Hause habe ich mich so frei und entspannt gefühlt wie seit meinen Kindertagen nicht mehr. Und ich hatte einen riesigen Hunger. Lieber Martin! Vielen Dank für diese tolle Erfahrung. Ich freue mich auf eine Fortsetzung. Liebe Grüße Dirk
Dirk
Never had a Tantric massage before. I was a bit nervouse. Martin met me in the warmest way, and I felt his good energy. The pleace was so peaceful and beautiful. The massage and experience was beyond my expectations. I felt so loved and taking care of, and the same time, so hot and sexy. Very unique time for me. Dirk
wass kostet eine tantra massage
Will be in playa del ingles for 7 nights in march, wanted to ask what the prices are, many thanks for the info, best regards from alex von kloten, Switzerland.
Comments / Reviews are the subjective opinion of Travel Gay users, not of Travel Gay.