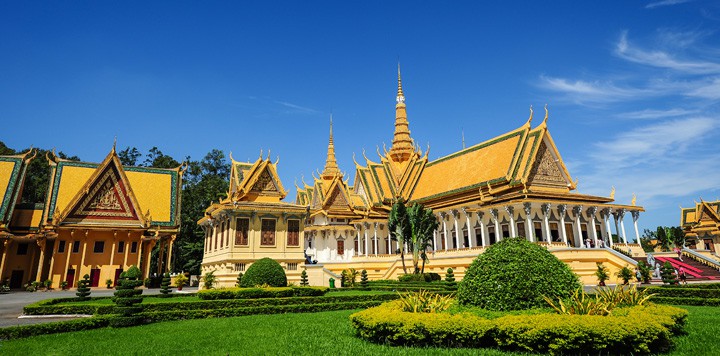 Gay Phnom Penh · City Guide
First visit to Phnom Penh? Then our gay Phnom Penh city guide is for you.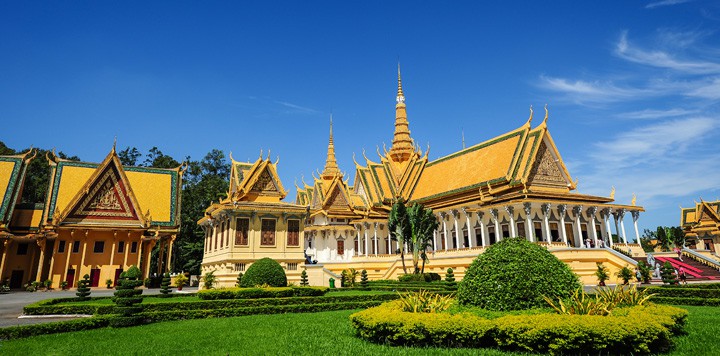 Phnom Penh ភ្នំពេញ
The capital city of Cambodia, Phnom Penh retains an old world charm, with its rich legacy of French colonial architecture, Buddhist temples and its beautiful royal palace right in the heart of the city.
This is a delightful city to explore, and a unique experience to meet its friendly inhabitants for an insight into how this country has both survived and is now developing, following its history of genocide and atrocity.
Gay Rights in Cambodia
While there is no official government equal rights legislation in Cambodia, gay sex involving non-commercial acts in private is legal here. Moreover, the strongly Buddhist culture of the country provides a broad tolerance for the small but growing local population who identify themselves as LGBT and for the many tourists who visit.
Gay Scene
The gay scene here has grown significantly in the last few years, matching the rapid development of tourism into Cambodia. For gay tourists, there is a fun and open scene to discover with a small and friendly collection of Gay Bars , Gay Dance Clubs and Gay Saunas and Gay Massage Spas.
The first-ever gay Pride event in Cambodia was held in Phnom Penh in 2003, and has been held annually since then.
Getting to Phnom Penh
Phnom Penh International Airport is the base of Cambodia Angkor Air and well-served with direct flights from Bangkok, Kuala Lumpur and Singapore, including regular services on budget airline AirAsia. Air France flies directly to Phnom Penh from Paris.
Taxis are cheap and plentiful and will get you from the airport to the city centre in around 30 minutes.
Getting around Phnom Penh
There is no mass public transport system in Phnom Penh as yet, but the city centre is small and compact and the major sites are easy to reach on foot. Tuk-tuks and cycle rickshaws are everywhere and a great way to experience daily life in the city.
The majority of the traffic here is still on two wheels and there is a constant flow of bicycles and scooters which never quite seems to ever stop, yet also rarely collide with each other - best go with the flow. For this reason, though, you will need to be very assertive when attempting to cross busy roads and practice your weaving and ducking skills.
Also, beware the tuk-tuk driver's favorite trick of delivering you to the family emporium rather than to your chosen destination - it's all part of the charm of the place and best endured with a weary smile and a polite decline. You will get to where you really want to go eventually.
Where to Stay in Phnom Penh
Phnom Penh has a good selection of hotels to suit most tastes and budgets. Even the luxury ones are affordable by Western standards.
For our list of recommended hotels, visit the Gay Phnom Penh Hotels and Gay Phnom Penh Luxury Hotels pages.
Things to See & Do
The highlights of Phnom Penh include visiting the monuments to Cambodia's long-established Royal and Buddhist cultures, the most notable of which are the Grand Palace, the Silver Pagoda, Wat Phnom and the National Museum.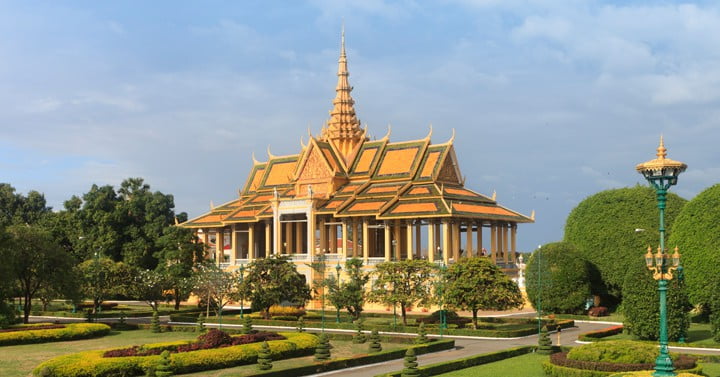 A very different highlight is to gain some understanding of the country's traumatic past by visiting the Toul Sleng Genocide Museum in the city centre, and the Choeung Ek Memorial at the site of the Killing Fields just outside the city.
Also take time to explore the French colonial architecture which remains a major feature of this, one of the least modernised capital cities of SE Asia.
For shopping and to experience the flow of daily life here, make sure to visit the major markets in the city - the huge Central Market, the Night Market and the Russian Market. Art Street is a great place to browse the many galleries and gift shops of the city.
Further details of all these highlights are featured on the Phnom Pehn Attractions page.
National Museum in Phnom Penh
When to Visit
Cambodia's peak tourist season is determined by the two prevalent seasons in this part of the world - wet and dry. The dry season being the peak runs from November to early April.
Visiting in the rainy season has its benefits, with fewer tourists (especially when going on to Siem Reap to visit Ankor Wat) and it rarely rains all day.
Visa
Except visitors from neighbouring ASEAN countries, travelers to Cambodia will need a tourist visa, which costs US$30 - only cash in US dollars is accepted.  Visas are available on arrival (ensure you have clean crisp US dollar bills and two passport photographs when you arrive).
You can also obtain a visa in advance from Cambodian embassies and consulates.
Money
The Cambodian riel and the US dollar are both official currencies. Use riel for all small purchases as US dollar coins are not used here.
ATM's are widely available and will dispense US dollars and sometimes riel also. Debit and credit cards are quite widely accepted also.
Join the Travel Gay Newsletter
Have we got something wrong?
Are we missing a new venue or has a business closed? Or has something changed and we have not yet updated our pages? Please use this form to let us know. We really appreciate your feedback.