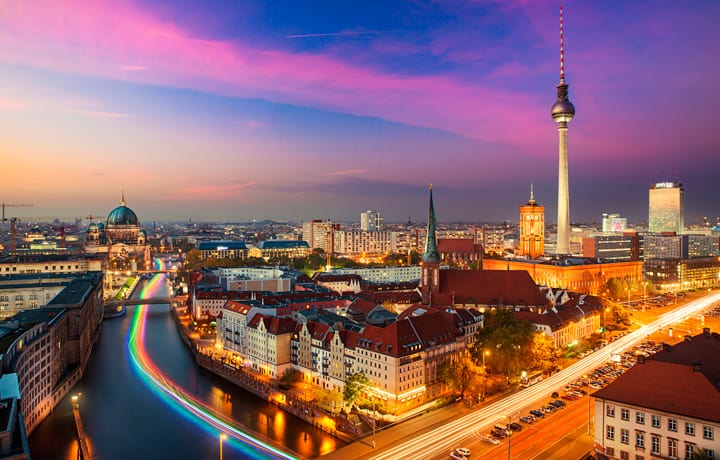 Gay Berlin · City Guide
Visiting Berlin for the first time? Our gay Berlin city guide page is for you.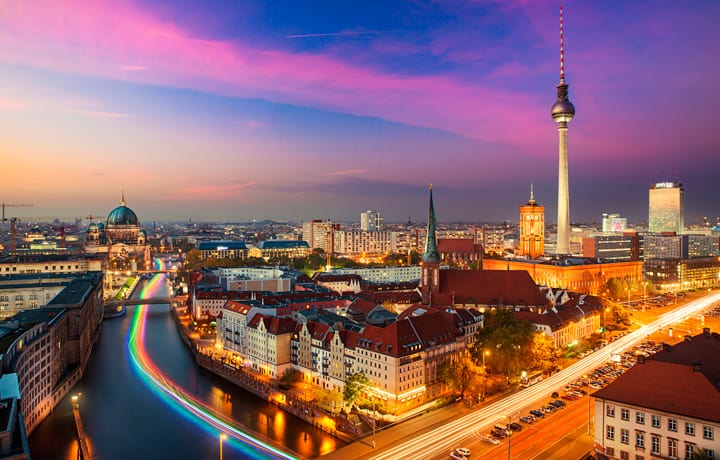 Berlin
The capital of Germany has a population of over 3.5 million people. Berlin has become popular as a place of residence for people from all over the world as it is the most inexpensive capital city in Western Europe. Berlin is famous for its architecture, festivals, contemporary arts, nightlife and high quality of living.
The city has a rich cultural past and there is a wealth of historical significance from the Weimar Republic, Third Reich, Soviet Era littered throughout Berlin.
Berlin is also a liberal bastion and is renowned for having an open and expressive culture that reflects the diversity of its population. The city has been shaped by numerous squat occupations, social movements and political changes into a place that is truly inclusive and welcoming.
Gay Scene
Berlin's gay scene is spread out across two main districts: Schöneberg and Prenzlauer Berg.
Most of the gay hotels, bars, cafés and shops are located in the Schöneberg district. There are two smaller gay areas in the less commercial Kreuzberg and the younger Friedrichshain in the east which has developed as another area with gay-friendly venues.
Gay highlights include Folsom Europe, the Berlinale film festival, Easter Meeting for bears and friends, the Gay & Lesbian Street Festival in Schöneberg, Gay Pride, Hustler Ball and many large sex parties.
The scene in Berlin is strong and diverse, and everyone will find something for their taste. Many gay bars and clubs don't indicate closing hours. In Berlin, if you are up for it, you can party around the clock.
The age of consent in Germany is 14. However, anyone over the age of 21 who exploits or abuses a 14 or 15-year-old is committing an offence.

Most gay travelers stay near the Schöneberg, Prenzlauer Berg or Berlin Mitte. Berlin has a great range of hotels to choose from. You can find very affordable accommodation in Berlin. Hotels are far more expensive in London or Paris.
Most hotels in Berlin are gay-friendly, meaning that the staff are respectful and welcoming to gay couples and individuals. This is especially true of the hotels located in the city's gay district Schöneberg such as the Quentin Design Hotel, a boutique and elegant hotel located in the heart of the gay district.
There are gay-specific hotels in Berlin that can be lots of fun! You'll find cheap and cheerful hotels and world-class 5-star luxury. TOM's Hotel is arguably the most famous and most popular gay hotel in Berlin and offers guests free passes to many of Berlin's top gay clubs and bars. For our list of recommended Berlin hotels for gay travelers, visit our Berlin Mid-Range + Budget Hotels page or the Berlin Luxury Hotels page.
Berlin is the most sexually liberated city in Europe. It was every bit as liberal in the 1920s in the Weimar era - Berlin became the first modern city with a big and open gay scene. Extracurricular activities - so to speak! - are not frowned upon in this city. Berlin's gay scene is wild.
The massage venues in Berlin tend to be clean and maintain a high standard of quality and comfort, making the massage industry in Berlin one of the best in the world.
We work with many gay massage providers in Berlin. Many of them advertise on Travel Gay. You can check out those who do and read their customer reviews on Berlin Gay Massage Page. If you seek you shall find in Berlin.
Berlin has some of the best gay saunas in Europe. It may well have the best gay sauna scene in Europe. You have the sheer critical mass - a huge and very liberated gay population. Naturally, Berlin's best gay saunas can get very full. There's nothing worse than wandering around an empty sauna looking for something that isn't there! In Berlin, it's there, so wander and see what you find!
Der Boiler is one of Berlin's larger saunas and offers guests a range of facilities spread over an impressive three floors. Der Boiler, like many of Berlin's saunas, offers discounts to students, early birds and night owls.
Check out our Berlin Gay Sauna Guide and find our about the best saunas to visit, and when to visit. You can also read our customer reviews and draw your own conclusions.
Gay Rights in Berlin
Germany is one of the most socially liberal countries in the world. It became more liberal in the aftermath of the First World War. Not to mention the war - ahem - but it became that way again after the Second World War. Gay Germans enjoy sweeping protections in legal terms. Gay marriage is legal and workplace discrimination is outlawed. Berlin is a gay mecca. You're as safe in Berlin as a gay traveler as you can be anywhere.

The Berghain
Berlin's most legendary gay club is the Berghain. It's a notorious temple to techno and excess. Many gay travelers - the disco dollies - build their Berlin trip around visiting the Berghain. Can you get in though? The Berghain has a notoriously strict door policy. Fear not, we have an insider's guide with everything you need to know about getting into the Berghain.
Getting to Berlin
Berlin is served by two airports: Tegel (TXL) and Schönefeld (SXF). Both airports are scheduled to be closed when the new Berlin Brandenburg Airport becomes operational in 2018.
Most scheduled flights use the Tegel airport, just 8 km northwest of the city centre. Although there is no rail or subway links to Tegel there is a frequent bus service. Look out for TXL JetExpressBus for transport towards Alexanderplatz with prices starting from €2.80. Taxis to central areas are around €30.
Schönefeld is the former airport of East Berlin, 18km southeast of the city centre. It's small and currently working with only one runway. Much of the traffic is to Eastern Europe and the Middle and Far East but budget airlines from the UK and Ireland also use it.
From the airport, you can take the bus or the train. One ticket can be used for the combined journey and costs around €3.30 A taxi to anywhere central will cost around €45 and takes about 30-45 minutes, depending on traffic and destination.

Getting around Berlin
The Berlin transport authority, the BVG, operates bus, U-Bahn (underground) and tram networks. The S-Bahn (overground railway) is run by its own authority, but services are integrated within the same three-zone system.
U-Bahn
This service consists of nine lines and covers the major part of the city (over 170 stations). The first trains run shortly after 4am; the last between midnight and 1am, except on Fridays and Saturdays when some lines run all night. The direction of travel is indicated by the name of the last stop on the line.
S-Bahn
The S-Bahn rapid transit system includes15 lines that feed into one of three core lines. Especially useful in Eastern Berlin, the S-Bahn covers long distances faster than the U-Bahn and is a more efficient means of getting to outlying areas
Bus
Berlin has a dense network of 150 bus routes. The day lines run from 4:30am to about 1am the next morning. Enter at the front of the bus and exit in the middle or at the back. The driver sells only individual tickets, but all tickets from machines on the U- or S-Bahn are valid. Most bus stops have clear timetables and route maps.
Tram
There are about twenty tram lines, mainly in the East, though some have been extended into the Western half of the city. Tickets are available from machines on the trams, at the terminals and in U-Bahn stations.
Regional Train
Berlin is also served by the Regionalbahn (regional railway), which once connected East Berlin with Potsdam. It still runs around the city. The ticket prices vary according to the journey.
Traveling at Night
Berlin has a comprehensive night-line network that covers all parts of town via buses and trams running every 30 minutes between 12:30am and 4:30am. Before and after these times, the regular timetable for bus and tram routes applies.
Taxi
Berlin taxis are numerous, safe and efficient. For short journeys, ask for a Kurzstrecke - up to two km for €5, but only available when you've hailed a cab and not from a taxi stand. The meter starts at €3.90, and €2 per km for the first 7 km thereafter. The rate remains the same at night.
There are plenty of taxi stands, especially in central areas. You can call for a taxi 24 hours daily at 261 026. Most firms can transport people with disabilities but require advance notice. Taxis accept all major credit cards.
Driving
Exploring Berlin by car is another easy way to get around. There is a wide range of vehicles for rent. Drivers should bear in mind that, in the absence of signals, they must yield to traffic from the right. Trams always have right of way.
Parking is free in Berlin side streets, but spaces are hard to find. On busier streets, you may have to buy a ticket (from €1 per hour) from a nearby machine.
Cycling
Berlin is wonderful for cycling. The west side is flat, with lots of cycle paths, parks and canals to cruise beside, whereas the east has fewer cycle paths and more cobblestones and tram lines.  Cycles can be taken on the U-Bahn (except during rush hour).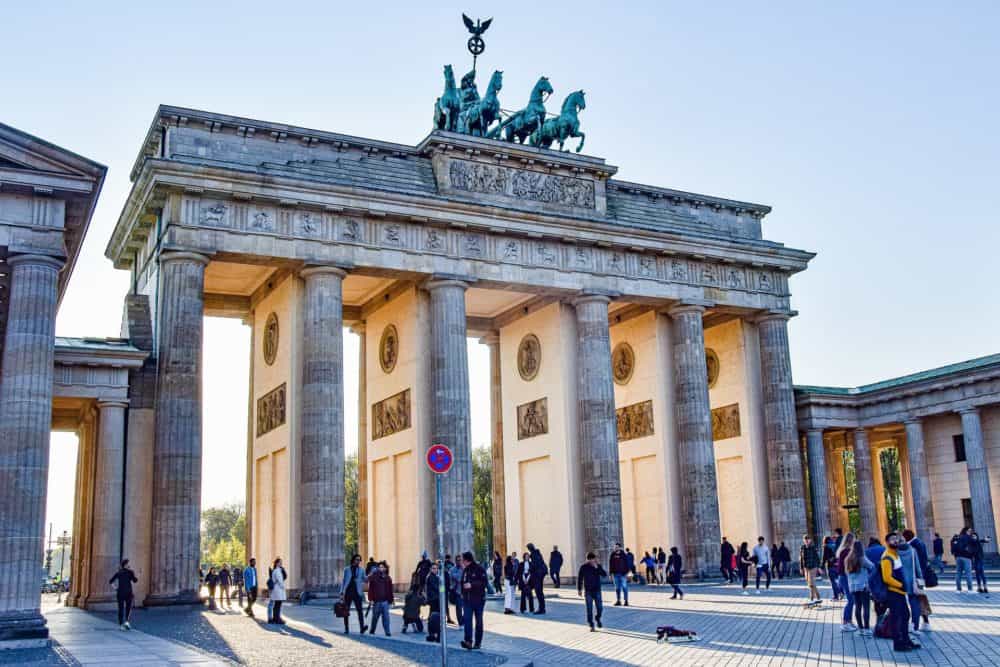 FAQs about Berlin
When to visit Berlin
The winters in Berlin are harsh and unforgiving, with day time temperatures averaging 0°c. However, it's in winter that flights and hotels are at their most affordable and the Berlin Christmas Market's are a truly magical experience.
For travelers looking to visit Berlin in the much warmer summer, June is the best month to do so. This is when the city is at its most alive, with the streets, parks and public spaces packed with people enjoying the lively summer atmosphere. Hotel prices in June are also cheaper than in August and July.
Money
Germany uses the Euro as its currency and travelers are advised to check its value before travelling in order to find the best exchange deals.
Whilst debit and credit cards are becoming more accepted in Berlin, especially in upmarket restaurants and hotels, cash is still king in the city. ATM machines are widespread but many will charge fees of upwards of €5 if not affiliated with a particular bank. Whilst most do, some machines in Berlin will not accept foreign cards but those that don't will clearly display the fact.
Its generally considered rude to leave tips on the tables in restaurants and cafes, instead tell the waiter or service provider how much you'd like to add to the bill. Good service is typically tipped at 10% across all venues and services in Berlin.
Visa
Citizens of EU member states do not need a visa to enter berlin. Travellers coming from outside of the EU will need to apply for a visa if they intend to stay in Germany for 90-days or more. These visas are generally reserved for business travelers and exchange students. Travellers are advised to check the german visa laws pertaining to their home country before applying.

Things to See & Do
Pergamon Museum
Berlin's famous museum that contains several fantastic artefacts, including the huge Altar of Zeus. You can read our full Berlin museum guide here.
Berlin Philharmonic
World-class orchestra featuring some of the best classical music in Germany. Many of the greatest classical composers were German.
Deutsches Historisches Museum
A great museum that offers a fascinating look at Germany's grand and turbulent history.
Reichstag (Parliament)
Historic building with spectacular views from its rooftop dome, made with sleek glass and steel, designed by famous British architect, Sir Norman Foster - open to the public 8am-noon.

The Holocaust Memorial
A memorial in Berlin to the Jewish victims of the Holocaust, designed by architect Peter Eisenman and engineer Buro Happold.
Neues Museum
A large museum beautiful neoclassical building, contains 9,000 interesting and unusual objects spread across three major historical collections.
Memorial Of The Berlin Wall
The last piece of the Berlin Wall. This memorial site of the German division is located in the middle of the city on Bernauer Strasse, it extends along 1.4 km of the former border strip.
Brandenburger Tor (Brandenburg Gate)
A famous monument which has long been a defining symbol of Berlin.
Potsdam
Famous neighboring city and part of the Berlin/Brandenburg region; magnificent historic sites and gardens, located on the River Havel 24 km southwest of Berlin's city centre.
Join the Travel Gay Newsletter
Have we got something wrong?
Are we missing a new venue or has a business closed? Or has something changed and we have not yet updated our pages? Please use this form to let us know. We really appreciate your feedback.